Here is the 2022 retrospective of my LEGO works, with some details about each projects and a more personal opinion on it.

2022 LEGO Creations Retrospective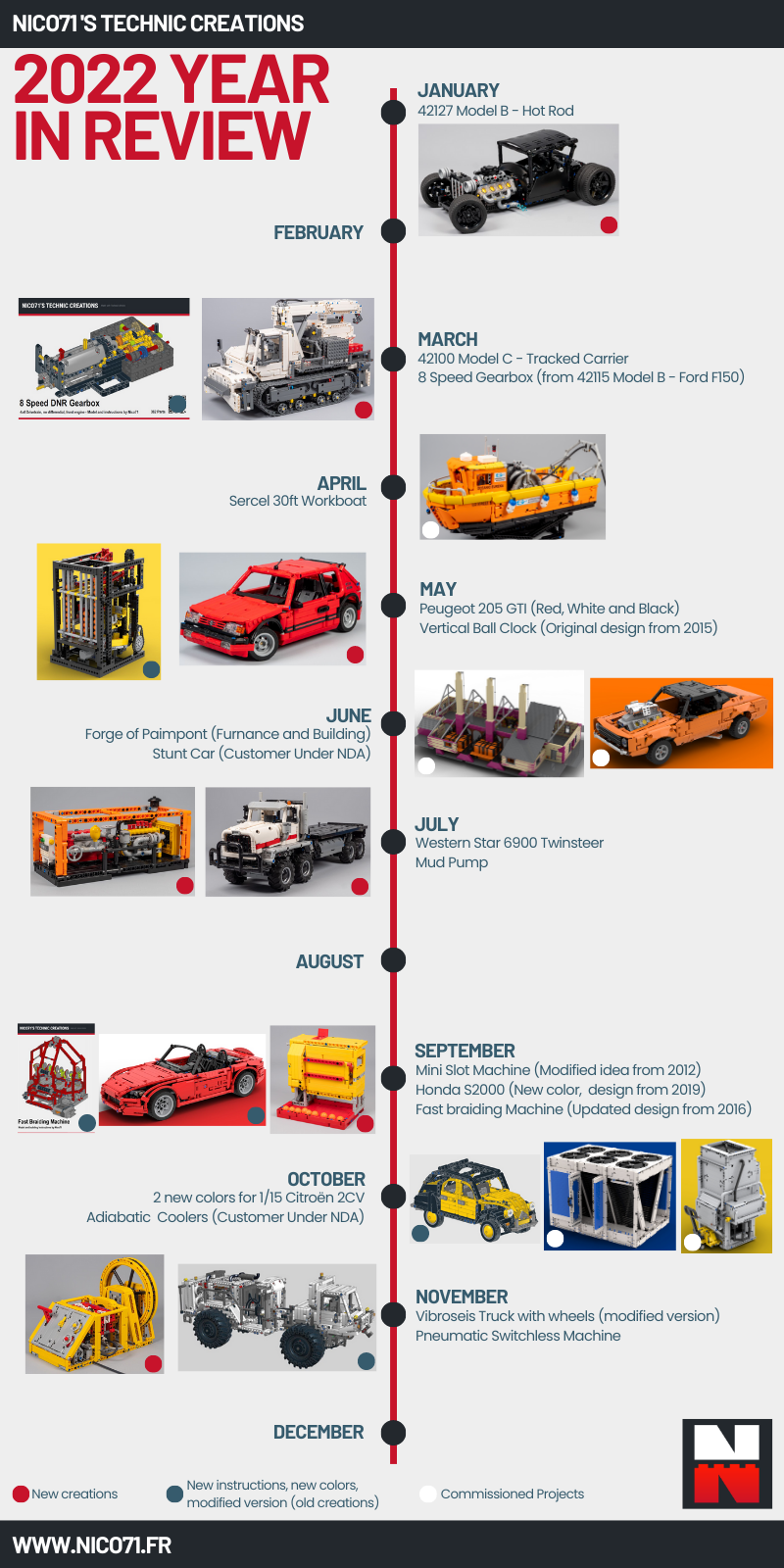 Let's begin the 2022 retrospective with the first creation I have made this year : An alternate model of the 🦇 Batmobile 42127 as a 🔥 Bucket Hot Rod 🔥. With steering connected to the steering wheel, rear wheel drive with fake V8 engine, opening doors, removable hard top, light bricks in the engine and on the rear light.
📕 Instructions : https://www.nico71.fr/product/42127-model-b-bucket-hot-rod/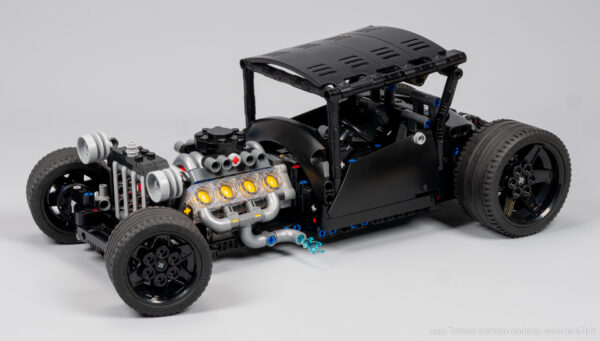 Second creation (March 22′) : An alternate model of the Lego Technic Set : 42100 Liebherr R9800, as a Tracked Carrier. It has 7 motors for 6 motorized functions : drives, outriggers, operating crane (rotation, first and second section) and fake engine with dedicated motor. It has also some manual functions like opening doors, engine cover and section extension of the crane. It is remote controlled with the official Lego app with custom profile. 🧩If you own the 42100 Set, you can build it ! 🧩
📕 Instructions, pictures, video : https://www.nico71.fr/product/42100-model-c-tracked-carrier/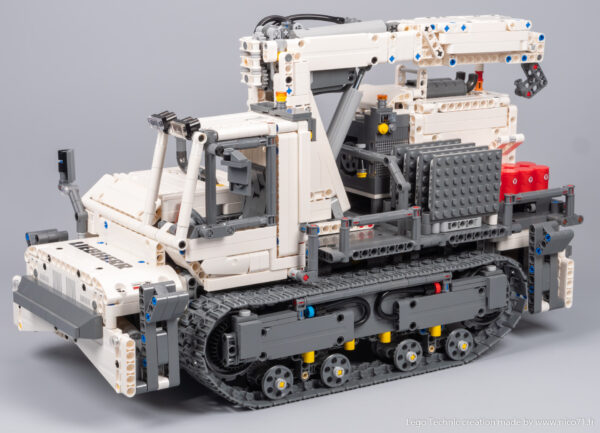 Third creation of 2022 : the 8 speeds sequential DNR gearbox from my Alternate model of the 42115 : the Ford F150, with 💲 free instructions 💲
You can use it in AWD (no differential), FWD or RWD creation, with front fake engine. You can of course modify it to add a central differential. The gear lever and DNR selector are placed between the gearbox and the engine.
📕 Free Instructions : https://www.nico71.fr/product/8-speed-sequential-gearbox/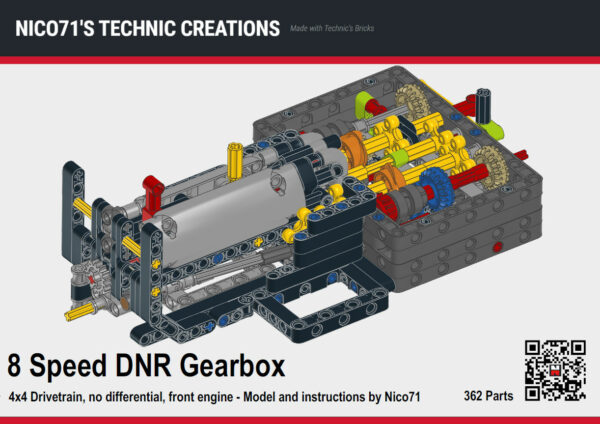 First commissioned project of 2022 : A LEGO Technic Seismic Workboat based on Jemar / Norpower 30ft boat for Sercel , produced in two copies with custom stickers. With dual winch with ratchet and probe, adjustable seismic element supports, removable stand and opening engine cover, to be displayed in the company showroom in France.
📲 Instructions, pictures at : https://www.nico71.fr/product/seismic-workboat/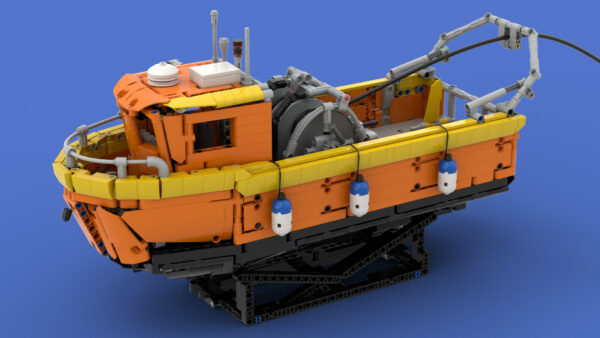 In May 22′, I published this small scale Peugeot 205 GTI. After making some old small cars such as the Citroen 2CV, Mehari or Fiat 500, I wanted to create a more sporty vehicle and trying to reproduce a 80's design car which seems "blocky" but are more subtil than that !
It features full suspensions, steering with hand of god, opening doors, trunk and hood, with detailed engine (not working), interior and custom stickers by @fwartstckr.
Available in three colors (Red, White and Black) with building instructions and complete package (parts + PDF instructions + Sticker) at BuildaMOC
📲 Instructions and video : https://www.nico71.fr/product/peugeot-205-gti/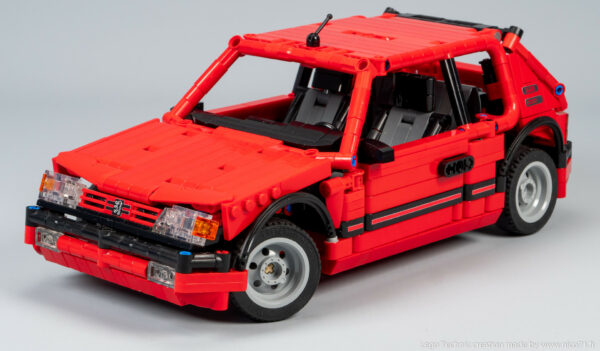 We continue today with this Vertical Ball Clock that I designed in 2015 but making the proper instructions in May 2022 !
⏲ This clock displays time using vertical digits filled with balls 🏀, with hours, ten of minutes, and minutes digit (from left to right). A motor is used to lift the ball, and different mechanisms 🔧 operate the distribution and the release of the balls in a intricated triggered build.
⏲ It is not very accurate but the period can be adjusted by removing or adding chain link, thanks to the spring, instead of making voltage variation.
⏲ A perfect build for mechanisms and clocks lovers. Instructions and video :
📲 https://www.nico71.fr/product/vertical-ball-clock/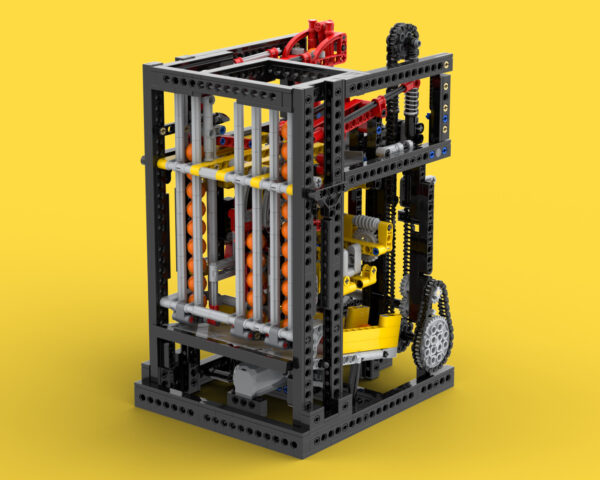 Second commissioned job of 2022, which was in fact the phase 2 of a project I have started in 2020 : The Rolling Mill of the Forge of Paimpont (presented here in rendering).
The idea of this project was to reproduce the building of the Forge with the moving elements to better understand the functioning of this old forges. With the water wheel, rolling mill, hammer, but also details on the building with the furnaces, lights etc, which gives a 1.5m long model for about 11600 parts.
I plan to release a video about this project, to talk more about, the design process, but also showing how I created the wood support and the installation at the Forge in Brocéliande (France) in the dedicated scale model room, so stay tuned !
If you are interested by Commissioned Project, you can read the Design Service Page :
❓ 👉 https://www.nico71.fr/design-service/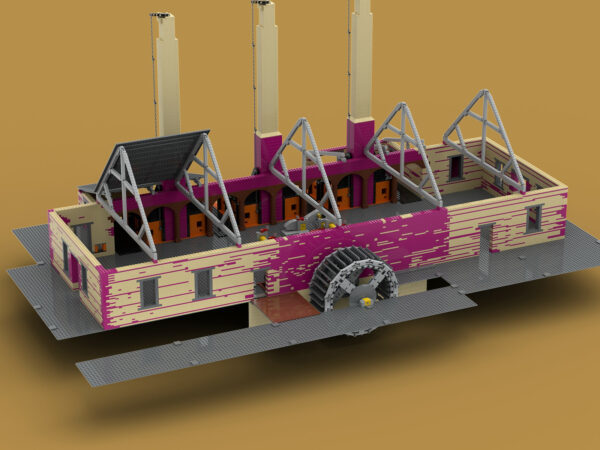 Third commissioned job of 2022, a Muscle Stunt Car for a customer under NDA.
The idea here was to have a muscle car with big V8 which pops-out when there is a front shock. Same on the rear with an openable trunk, so the model is equipped with complex linkage mechanism inside to create accident functions. As well as classic functions such as drive, steering, suspensions etc, all to be fun to play, with or without motorization. I can not tell more about this so I expect I will be able to present it soon with a video !
If you are interested by Commissioned Project, you can read the Design Service Page :
❓ 👉 https://www.nico71.fr/design-service/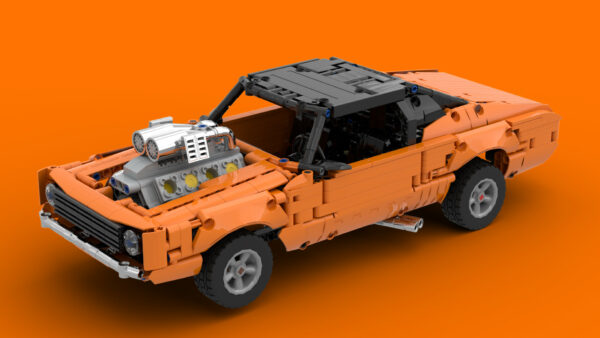 🚧 The Western Star 6900 Twinsteer in small scale. 🚧
Remote controlled using Control+ and PoweredUp App for the drive, steering and winch. Tandem bogies suspensions with oscillating arm, removable hood with fake working engine, and openable doors complete the model, as well as a mud pump as the load.
❓ It was the first creation I made from the Snowrunner Video Game (hope there will be more), and that I filmed during the development, resulting in 3 videos (40min) to explains the whole design process. Lot of work to explain all of this, but I think it worth it !
📲 Video, details, Instructions : https://www.nico71.fr/product/western-star-6900-twinsteer/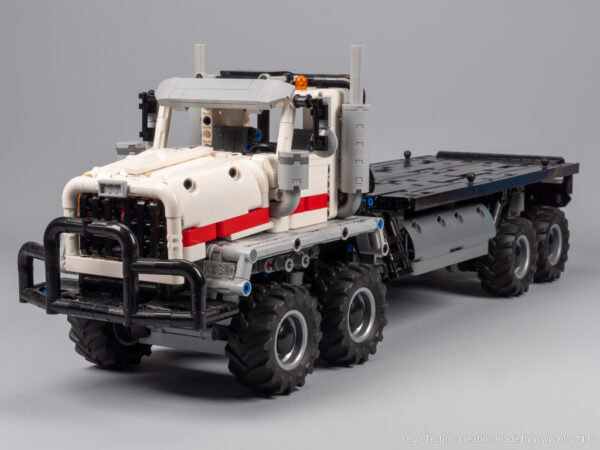 Red color for the Honda S2000 designed in 2019. I have not only swapped the color, but also redesigned some parts of the bodywork to fit the new LEGO parts available in red.
❓At first, it was just a question of a Fan, if a red S2000 would be possible. So I have checked and then do it for him. Then later I released the instructions.
📲 Video and Instructions : https://www.nico71.fr/product/honda-s2000/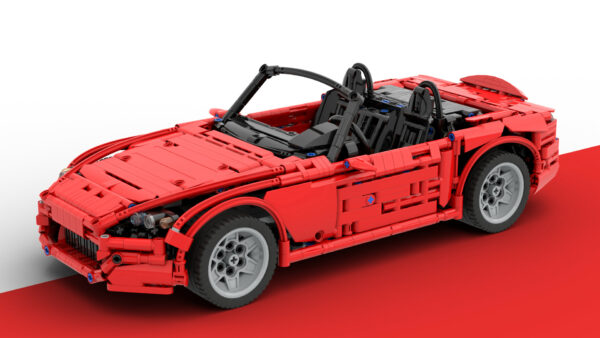 A Mini Slot Machine, using LEGO marble run mechanism to define probabilities of winning.
❓ I have not made building instructions for the big slot machine that I designed 10 years ago and so I regret it. As many people were asking for instructions, I reworked the model in a small and more-buildable version and make proper building instructions !
📲 Video and Instructions : https://www.nico71.fr/product/mini-slot-machine/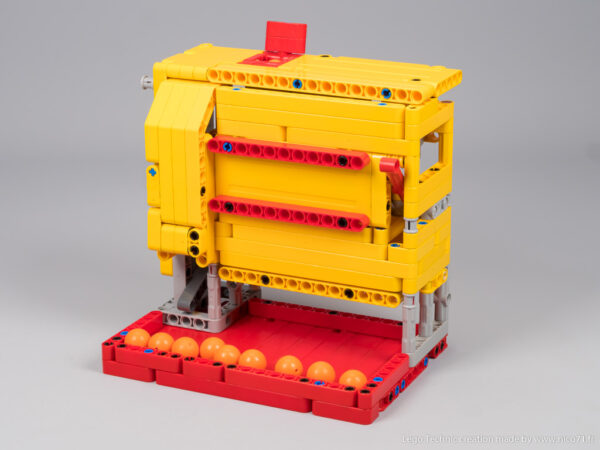 A 5 reels LEGO Technic braiding machine, powered by a single motor (or manual crank), which braids raw material in a final fabric, to create cord or wristband.
❓This is a updated 2022 version from the one I create in 2016, with changes on the motorization, gearing and cosmetic as the original M motor tends to be hard to find. I have also reworked the instructions to comply with my 2022 standard of quality and bring life again to this old creation !
❓Fun Fact : this machine was displayed in its old version in a Industry Fair in France.
📲 Video and Instructions : https://www.nico71.fr/product/5-reel-braiding-machine/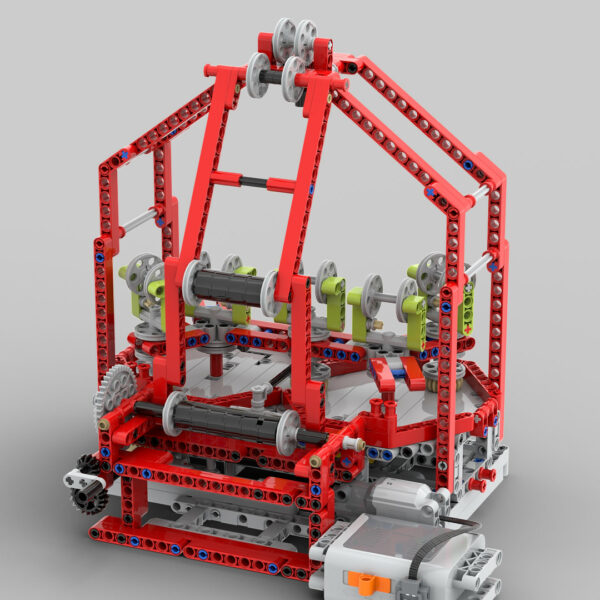 A New color available for the Citroen 2CV in 1/15 Scale that I have designed in 2017 : Charleston Yellow / Black.
❓ There is so 3 different Charleston color schemes available, which brings the total to 15 of total color variations available !
📲 Video and Instructions : https://www.nico71.fr/product/citroen-2cv-1-15/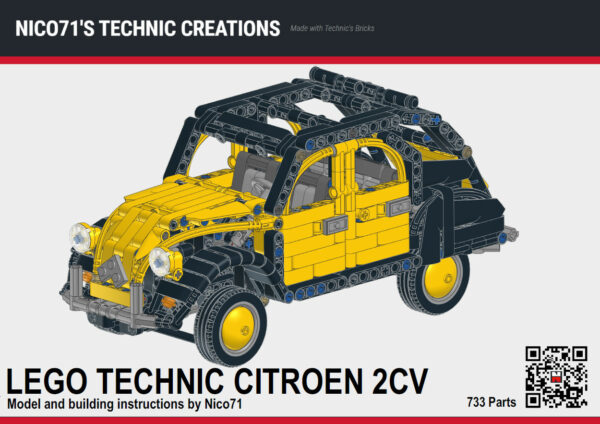 Commissioned Project for Baltimore Aircoil Company though BuildaMOC : a reproduction of their adiabatic cooler : the TrilliumSeries, which uses a combination of adiabatic condenser, evaporative and dry cooling.
❓ The original product is 3m height which is big ! My LEGO Versions is 70x44x44cm for 7525 parts which is big too, the biggest commissioned project I have ever done. Always nice to work on industrial product, being myself from this field.
⚙The scale model is equipped with 6 motorized fans, openable doors and removable adiabatic pads and condenser, in order to show the different features. You can see on the last pictures the model shown on an industrial exhibition.
📲 No video but if you are interested by commissioned projects, you can read : https://www.nico71.fr/design-service/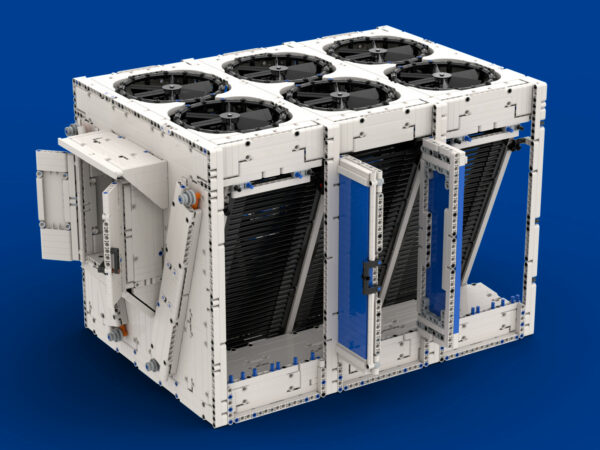 Second Commissioned Project for Baltimore Aircoil Company though BuildaMOC : a reproduction of their hybrid fluid cooler : the Nexus, a smaller and modular cooling system for light industrial applications.
❓ The original product is 2.5m height and so my LEGO reproduction is 20x20x29cm for 1549 parts (same scale as the previous cooler I did). This one was fun too to create with the different openable and removable parts, as well as the piping and the pallet jack.
⚙This scale model is fully manual with many openable elements for maintenance and removal parts to explain the functionning. You can see on the last picture the model shown at the same industrial exhibition than the Trillium I posted yesterday.
📲 No video for this one too but if you are interested by commissioned projects, you can read : https://www.nico71.fr/design-service/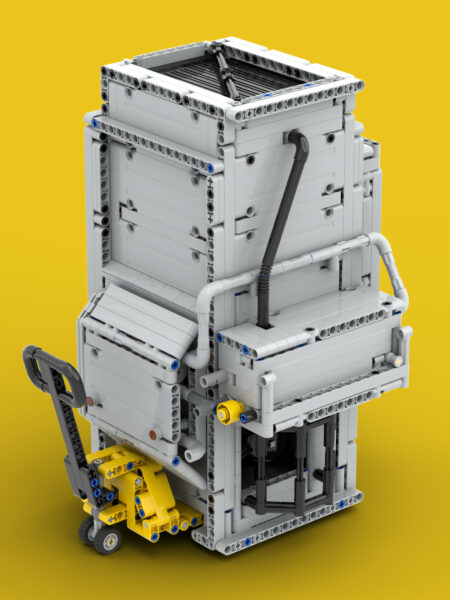 ⚙The Switchless Pneumatic Engine, with hose loop pinching to handle the air distribution. I put inside a bicycle a month later (see Steam Bicycle), but I wanted then to put in a didactic machine to better show how it works, with working throttle, idle ajustement and adjustable timing point
❓ Fun fact, I was inspired a lot by @brickexperimentchannel and @bricktechnologychannel for the video editing, with a lot more progression and story telling video. It works a lot as the video reached a million view quickly after and now it has 1.6millions which is insane for me ! So thanks guys for this kind of video, it is not adapter for all the creation but it suits well for the machine !
📲 video and Instructions : https://www.nico71.fr/product/switchless-pneumatic-machine/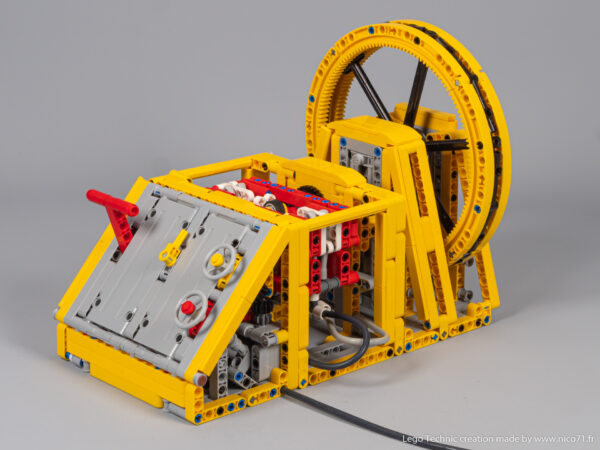 ⚙Wheeled version of my alternate model of the #42100 LEGO Technic set – Liebherr R 9800 that I have made in 2021, inspired by Inova product. With motorized drive and articulated steering, operated vibrator, fake engine with speed control, pendular tracks and central articulation, powered by control+ and remoted with a smartphone.
❓ This model (the wheeled version) was the first commissioned project from 2020 that I did for Inova, with the helps of BuildaMOC for the parts. Years after, I decided to release the instructions because some fans of LEGO and Vibroseis contacted me to build it too. It was a pleasure to make this version especially for people who drive this awesome machine in real !
📲 Instructions : https://www.nico71.fr/product/vibroseis-truck-wheeled-version/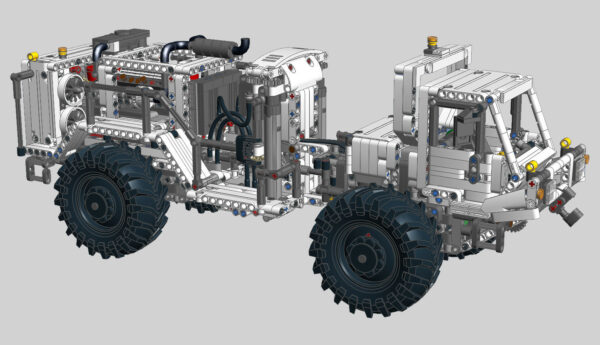 Personal though on 2022
I have made 7 new creations (2 alternates), 6 new instructions for old model, and 5 commissioned project (plus some under NDA that I can not show).
I was a pretty dense year with the commissions, that's why there are less "big" model as in 2021 for instance with more alternate, and I focused also to clean my instructions-todolist.
The instructions sales were in decrease, mainly because I issued less alternate model. The market tend to be over-satured to my opinion and the competition starts to become toxic that is why I did not want to compete in making the first alternative each time a set came. But also because some model didn't sell very well, like the Peugeot 205 GTI or the switchless engine. It can be hard to see that the sale is often decorrelated of how hard I worked on a creation. But I am ok with that now and mourns this idea. I simply work o what I want, and know what people want, as longer I can.
The Western Star had more sales but more important, it was really appreciated by the fans with nice comments. I have made a complete series of design process video on this model with over 45min of spoken English video [1] [2] [3] [4] which took ages to do, and unfortunately brings not so much interest to it (views and sales). I know you like a lot this type of content, but it is simply too much time-consuming for me to do, as a non-native English speaker.
So I will continue to make some design secrets of creation which deserve it, sometime directly to present the creation, but not a complete series each time.
On the personal side, I had some difficult moment, first on health, which I will not explain here, but also with the loss of Maké-Maké in the begining of 2022, 1 year-old Cat that you have seen on some videos. It was a hard time, and affected me more than I though.
I had to deal also with a creativity crisis this year, being focus on commissioned project with sometime very short deadline took all my energy. And when I worked then on classic creation, I was struggle to move on and succeed of making what I want. Therefore I took some breaks, but I had to deal with my guilt of non-working with always the same questions : should I work in a ineffective way to respect the deadline I want with the risk in making no very good creations, or I take a break to recover energy/motivation/creativity and then work better but with less creations to published ? It may sound like a easy questions but I think every creative people as to deal with that one day, and it is a part of being a independent worker with a company to run, to understand and answer this questions. I took the second option.
I realize each year I learn something new about owning a company and being an independent. The first year, will all the administration tasks and project management. The second year with the articulation between personal and professional life (as independent, I can literally work all the time, and never). And the last year with the creativity and motivation crisis.
So, with a step backward, I think every entrepreneur in creative field have the same feeling at some time. We all depends of our brain and our creativity, which can be affect by motivation for sure, and so the working time / results / fails / guilt / sales is in "sawtooth". I was afraid of that the first year but now I am also ok with that, which give me the strength to overcome the more difficult moments.
What worked for me on that point is to use project planner like Notion to note every idea and projects with a rough timeline. I often not respect my deadline but at least the idea is written and "schedule" and it remove a big part of the stress of thinking a lot, and of course accept the guilt of non-working to recover and avoid burnout.
To finish on a positive sides, 2022 has also good points. The partnership with Buildamoc work very well now for the commission projects, we bring mutually works, companies call me back because they want other models, so there are satisfied by my work, word of mouth works a lot, in the way I refuse project because of lack of time and I have a strong community with mostly no hater.
I could wish 2023 will be better than 2022 but in fact, despite all the problems, 2022 was a"pivot" year in thinking and dealing with creative / motivation problem and so I learn a lot on myself this year. So I wish that in 2023, I continue learning things on my job, one me. And to be honest, with a wedding in preparation, I will lack some time to build 😁