Here is the 2022 retrospective of my LEGO works, with some details about each projects and a more personal opinion on it.

2022 LEGO Creations Retrospective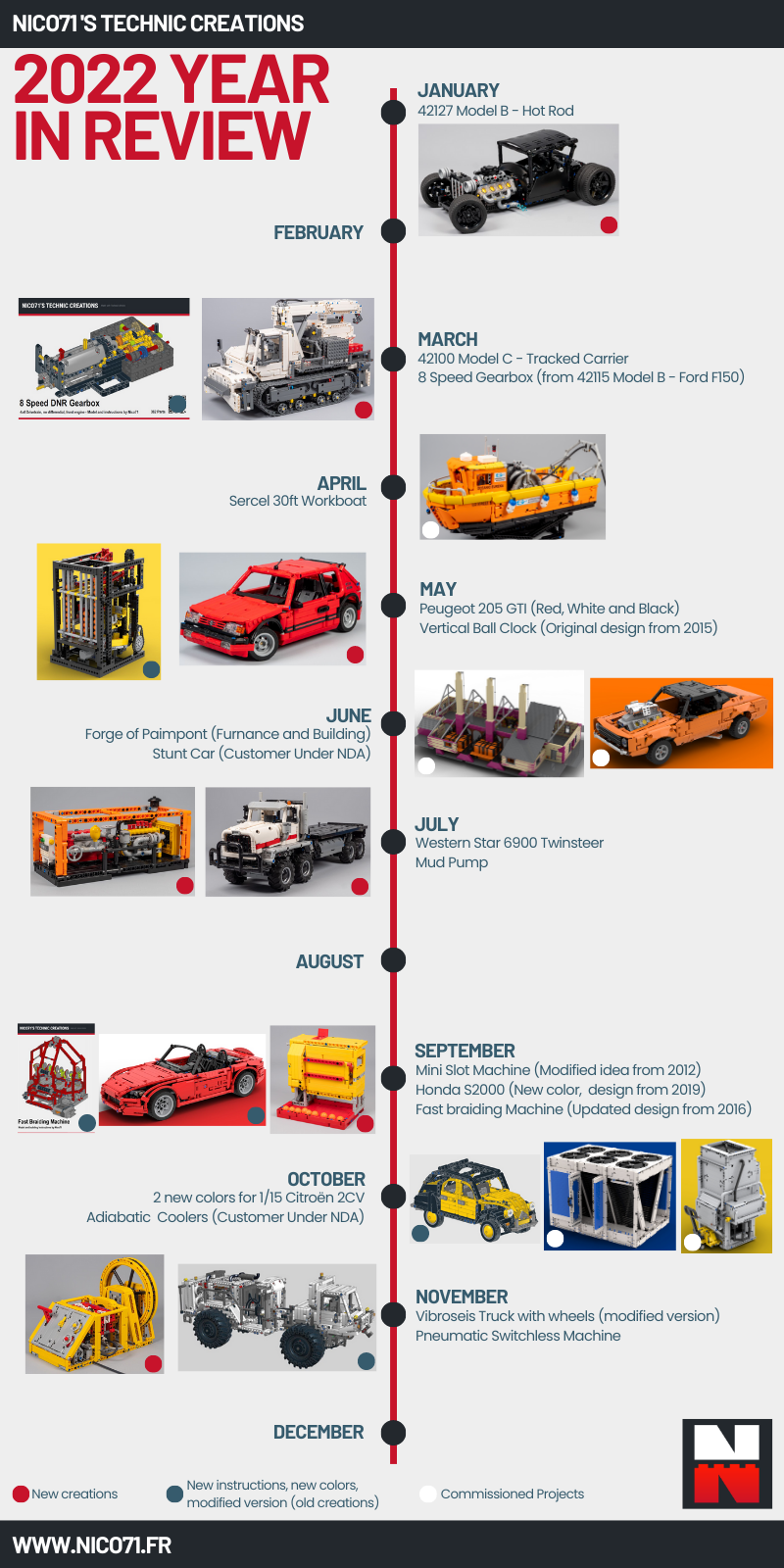 You can learn more on each creations on each Instagram post
Personal though on 2022
I have made 7 new creations (2 alternates), 6 new instructions for old model, and 5 commissioned project (plus some under NDA that I can not show).
I was a pretty dense year with the commissions, that's why there are less "big" model as in 2021 for instance with more alternate, and I focused also to clean my instructions-todolist.
The instructions sales were in decrease, mainly because I issued less alternate model. The market tend to be over-satured to my opinion and the competition starts to become toxic that is why I did not want to compete in making the first alternative each time a set came. But also because some model didn't sell very well, like the Peugeot 205 GTI or the switchless engine. It can be hard to see that the sale is often decorrelated of how hard I worked on a creation. But I am ok with that now and mourns this idea. I simply work o what I want, and know what people want, as longer I can.
The Western Star had more sales but more important, it was really appreciated by the fans with nice comments. I have made a complete series of design process video on this model with over 45min of spoken English video [1] [2] [3] [4] which took ages to do, and unfortunately brings not so much interest to it (views and sales). I know you like a lot this type of content, but it is simply too much time-consuming for me to do, as a non-native English speaker.
So I will continue to make some design secrets of creation which deserve it, sometime directly to present the creation, but not a complete series each time.
On the personal side, I had some difficult moment, first on health, which I will not explain here, but also with the loss of Maké-Maké in the begining of 2022, 1 year-old Cat that you have seen on some videos. It was a hard time, and affected me more than I though.
I had to deal also with a creativity crisis this year, being focus on commissioned project with sometime very short deadline took all my energy. And when I worked then on classic creation, I was struggle to move on and succeed of making what I want. Therefore I took some breaks, but I had to deal with my guilt of non-working with always the same questions : should I work in a ineffective way to respect the deadline I want with the risk in making no very good creations, or I take a break to recover energy/motivation/creativity and then work better but with less creations to published ? It may sound like a easy questions but I think every creative people as to deal with that one day, and it is a part of being a independent worker with a company to run, to understand and answer this questions. I took the second option.
I realize each year I learn something new about owning a company and being an independent. The first year, will all the administration tasks and project management. The second year with the articulation between personal and professional life (as independent, I can literally work all the time, and never). And the last year with the creativity and motivation crisis.
So, with a step backward, I think every entrepreneur in creative field have the same feeling at some time. We all depends of our brain and our creativity, which can be affect by motivation for sure, and so the working time / results / fails / guilt / sales is in "sawtooth". I was afraid of that the first year but now I am also ok with that, which give me the strength to overcome the more difficult moments.
What worked for me on that point is to use project planner like Notion to note every idea and projects with a rough timeline. I often not respect my deadline but at least the idea is written and "schedule" and it remove a big part of the stress of thinking a lot, and of course accept the guilt of non-working to recover and avoid burnout.
To finish on a positive sides, 2022 has also good points. The partnership with Buildamoc work very well now for the commission projects, we bring mutually works, companies call me back because they want other models, so there are satisfied by my work, word of mouth works a lot, in the way I refuse project because of lack of time and I have a strong community with mostly no hater.
I could wish 2023 will be better than 2022 but in fact, despite all the problems, 2022 was a"pivot" year in thinking and dealing with creative / motivation problem and so I learn a lot on myself this year. So I wish that in 2023, I continue learning things on my job, one me. And to be honest, with a wedding in preparation, I will lack some time to build 😁