Buying official Nico71's products
If you like my creations and would like to buy it for you or to offer, you can ! The only official retailers for Nico71's product is mochub.com. Mochub is a service where you can buy creations from builders. The kits are composed of genuine and new lego parts sent by DHL worldwide with the building instuctions in PDF. Mochub is an hungarian company which is serious and have customer satisfaction as a priority. Buying official Nico71's product on mochub is also a way to support my work, has Mochub pay royalties to the author of the creation.
You can see the list of available product here.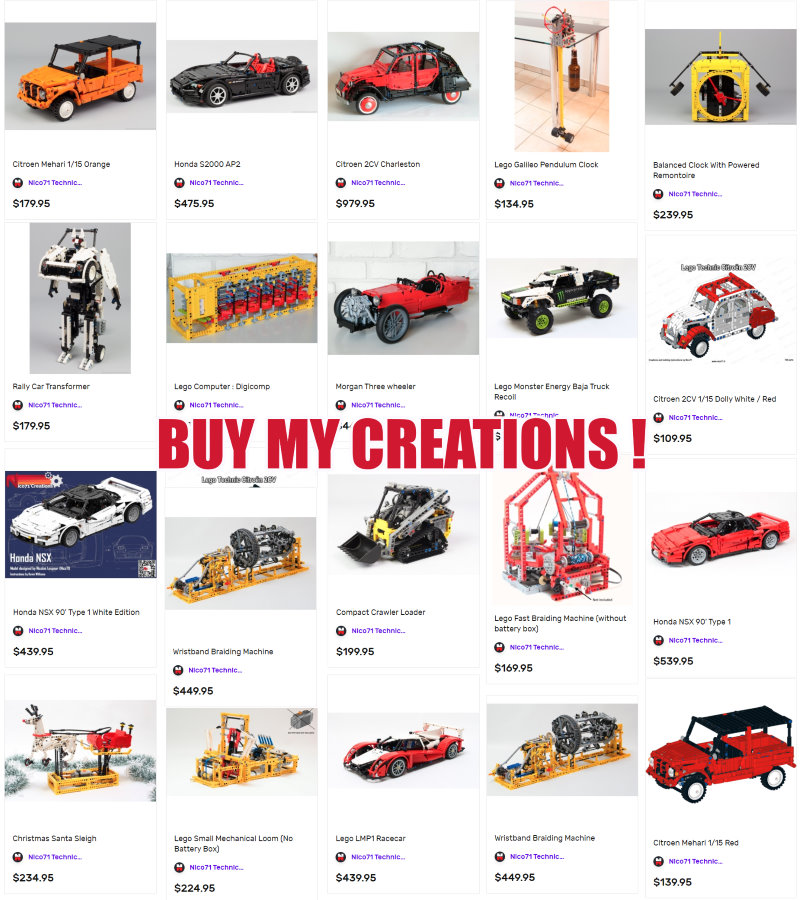 Buying fake Nico71's Product
But mochub is not the only one store who sell Nico71's creations. There are many other on amazon, Ebay, aliexpress and so on. They are all unauthorised and have simply pirated my creations and instructions. They are also composed of Chinese copy of Lego parts, which ensure you to get the worst quality and bad functioning.
Please note that all these companies have been noticed to cease and desist according french law n°92-597 regarding intellectual property and copyrighted.
Buying such fake Lego creations, is encouraging piracy, infringe law of intellectual property (from me and Lego Brand), and make my business non-viable.
How to make the difference ?
For the official Lego sets : Search on rebrickable if it is an official set, if yes, compared the price to the official Lego product. If the price is to nice regarding the size, it is very probable that it is composed of fake Lego. Don't trust the review, it is mostly fake. You can use Reviewmeta to know if they are true or not.
For other creations : Search in the store the explicit consent of the builder Search the name of the designer and contact him. Search on Rebrickable if the model appears and ask to the designer if the store is authorised to sell his design. You can also ask on the Lego Technic. page facebook is the product is fake or not. There are many experts who will answer to you.