Here is the retrospective of the 2017 year, with important moments, stats and future projects.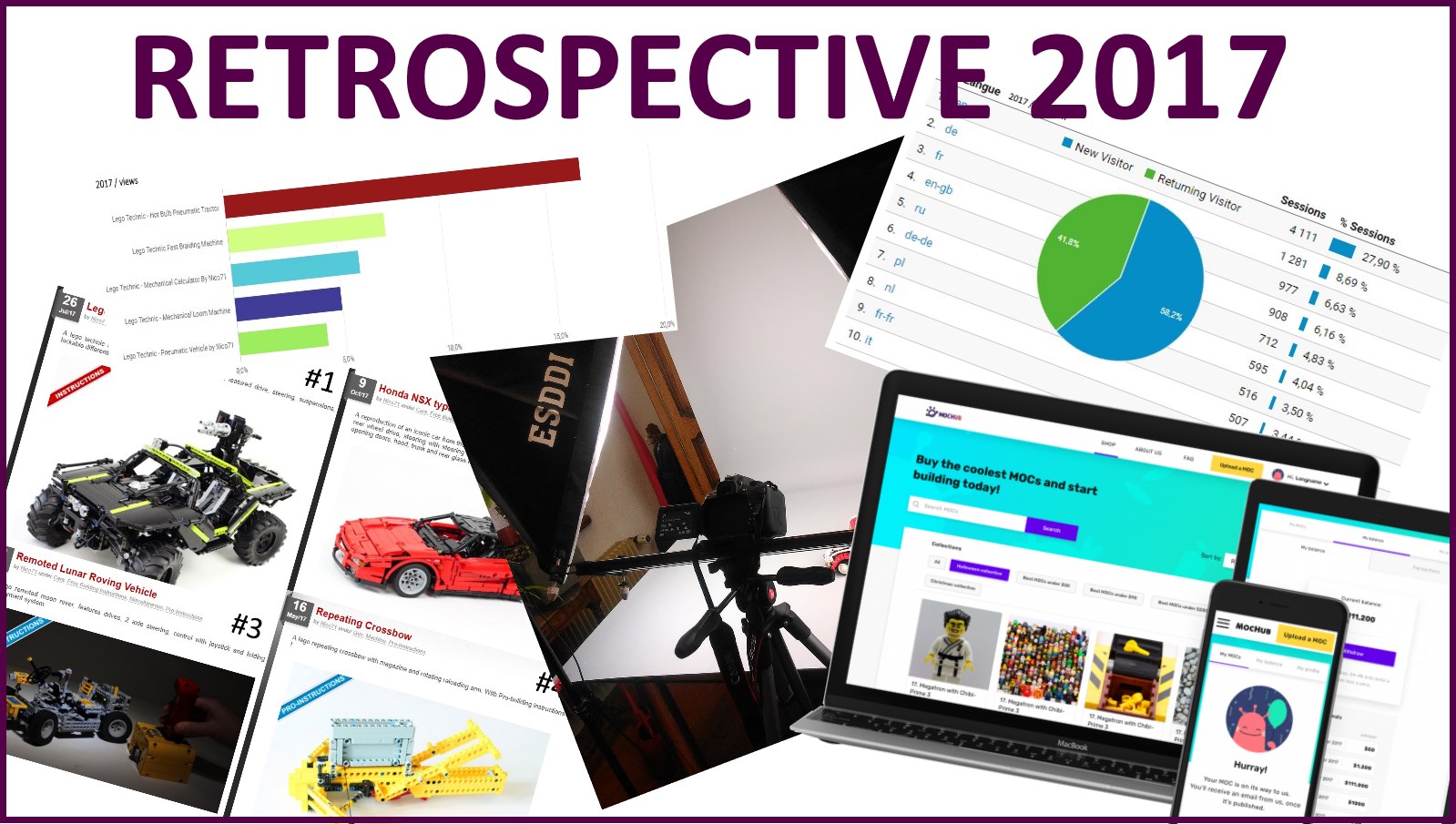 Creations
There were 10 creations for this year (with a small one for halloween), which is less comparing to 2016 but due to my move on in a new flat with some tasks to do in it. Here are the top ranked creations by views on 2017 :
The biggest work has been on the honda NSX, which took me 3 months to get, which is normal regarding the complexity of the design. A second interesting point is about the warthog. I wanted for a while to build something with big tyres with all drive and steering on all wheels. Plus with the Halo franchise, this warthog has been a good success. It is also interesting to note that the other rover vehicle did not have the same success than the previous, despite a bigger moc, including functions like pneumatic suspensions, crab steering etc. The last interesting point is about the repeating crossbow which is an improvement of the previous crossbow with automatic magazine and better shooting distance which has good success.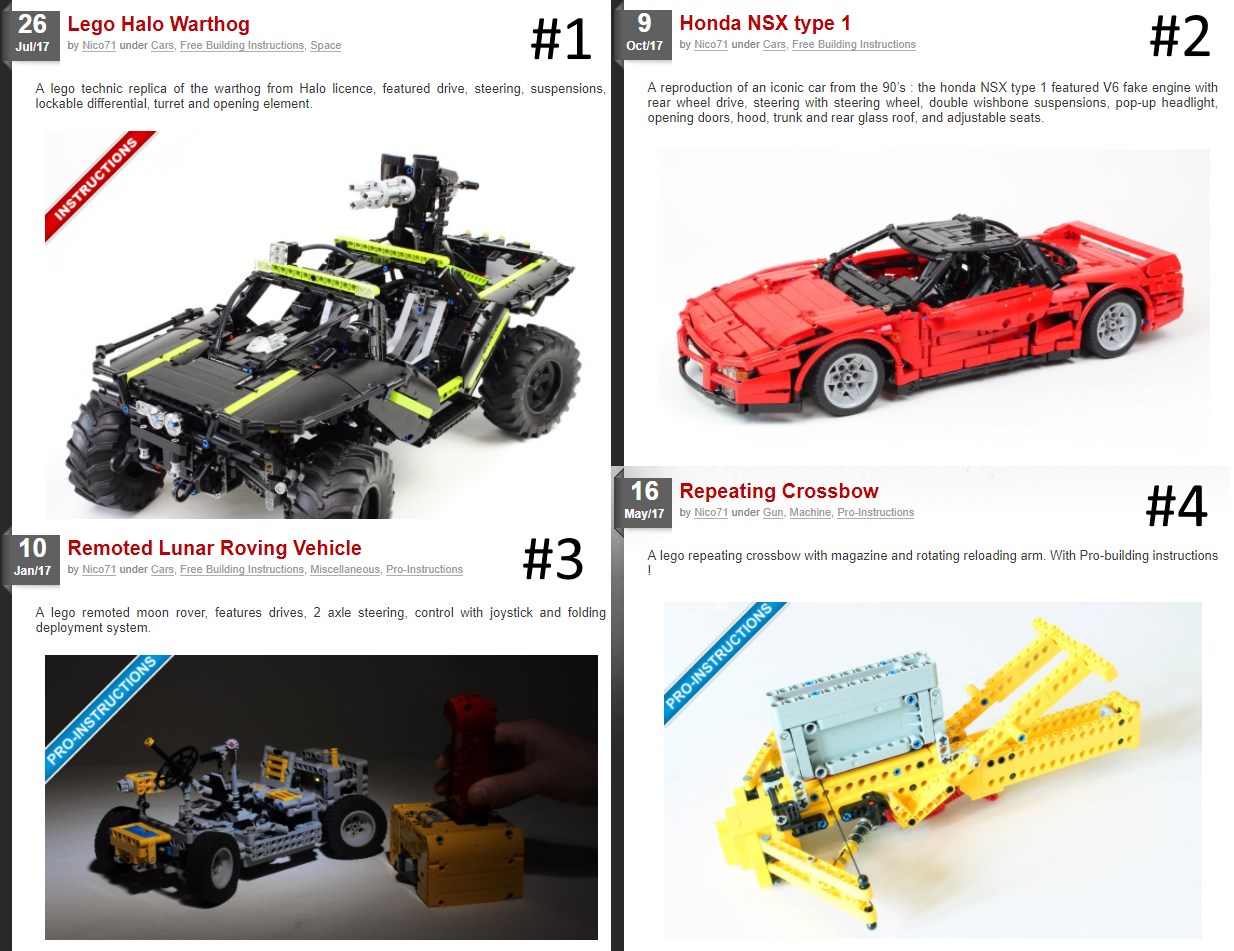 Instructions
Regarding the instructions, there were now more than 70 instructions, including 26 with pro looking rendering instructions for sale. I have added some instructions for old moc (like the Digicomp or the morgan made by Kevin wiliams) and rework some of old one. The idea is to made pro instructions when many people ask or when I think it could be interested for user to have this.
You may have notice that some instructions which were provided for free and now for sale (like the trial jeep or roadster for instance). This is due to two things. the first is that now my lego occupation enables me to have small revenue for these sales and I want to build up of this works (buy parts, sets, material for filming and editing etc.). And secondly because I note that there are many reproductions of my creations, with rarely credits, and many groups of sharing instructions (forum, facebook, youtube, even in torrent) who share instructions of people without credit it or simply steal design. That is why I decided to make this pro-rendering instructions for sale to discourage people who take these to not share easily (if I buy an instruction, I will do not post it for free on facebook or other because I know the needed work for the designer and I want to build this for myself using the instructions I paid for).
But, do not be upset about it because for all creations with pro instructions for sale, there are often (almost always) free building instructions based on photo sequence which are in good quality including the bill of material. Note that this is very rare that designer proceed like that, in general, they made a pro-instructions for sale and that is all. Even if I only made photo sequence and inventory on rebrickable, it takes times of work so when I can, I did a pro instructions but this is not systematic. Therefore, with my way of work, you can choose to pay for supporting me, or not, as you want. And for those who pay, gains a high quality PDF as the building instructions for a reasonnable price depending of the size of the moc (between 5 to 10€).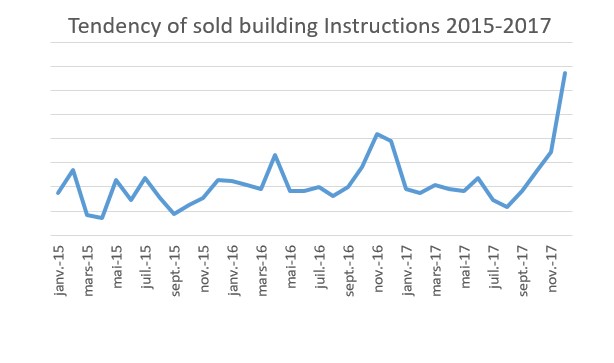 You can note that approaching christmas the sale are more important, maybe for a gift ?
"Note also that I hide anything in my work, there are plenty of builder who do not show the interior of a creation but mine yes. There are pictures and instructions to see how it is made and encourage people to rebuild it and modify it. Everybody can download a free instructions, or paid for a pro-one to support my work."
Mocplans has merged to rebrickable current 2017, it enables now to everyone to buy a instructions and test it before if they can build it. Rebrickable is becoming one of the most important website to deal with creations and instructions. I remember the begining when my trial jeep was the first moc added on rebrickable and now there are more than thousand ! Consequently I put my building instructions for sale at rebrickable with the same price as my website (even if there is a comission for rebrickable which is normal). I was affraid that people will buy on rebrickable instead on my blog (maybe because it looks more proffessionnal and e-market, mine are only automated paypal buttons) but in fact my sale increased about 50% thanks to that, meaning that the population on rebrickable is not exaclty the same on my blog (people find me by my blog, but also by rebrickable).
Here is the graphic which displays the repartition of building instructions sold since 2015 :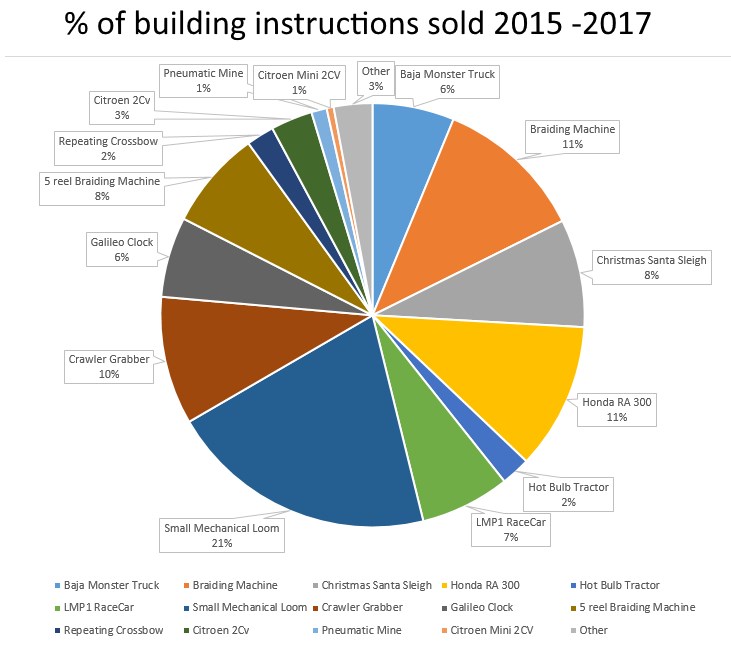 As always, the mechanical devices are the most sold with then the car with the honda RA300 and the LMP1. This is the same tendency as previous year. Also 90% of sale and from new buyer. Only 10% goes again.
New Concept
2017 introduced one new concept : lego under x-ray. As I work in company who develops and produces tomograph (I work in mechanical design office), I can scan many things I want, included lego. That is why I wanted to explore that. I started with the exploration of a failure in a servo motor which shows a problem on wire.
Then I made a video to see how a wind up motor is made and then a 3D scan of the lego 42006 excavator which show air bubble in lego axle. The next will be about this air buuble in lego axle with researches by year. The video have a great success with some views (less than a classic creation but more than a vlog) even if this video are less viral than other creation but you made really good comment and discussion on youtube and facebook. And this encourage me to continue.
I have also continue the vlog session with features some channel who deserve more subs, first about vehicle, then machine, then GBC. I will made the next about LPE and then again on vehicle. But on vehicle there are plenty of small channels with some good works but I do not know how to do this because there are 50 channel to featured so maybe a big video of many other, I keep searching how to present that.
Anyway, the views are of course less than classic video (again because this is not viral) but if it can give some subs to channel who deserve, it is good for me. It takes me not many many time (only for subtitles which is time keeper to do) so to wait between two video this is nice. Of course, they are not calendar for this type of content, only when I have time and inspiration.
The last news thing is about Mochub but we will discuss here below.
Material
2017 was a great year for purchasing new material for filming and editing. I have bough several things which improve the quality of video or reduce the time. First a new grey background which is in vinyl which is better for washing and I wanted to test the grey color instead of white to have the white parts good shaped. The second about the pack-shot studio was the two lamp for light the scene which enables me to shot when I want. I bought also a new tripod to replace my old crappy amazon tripod which is way better for stability. The last purchase for the pack-shot was a small slider enabling me to make traveling scene. You can see it on my last creation.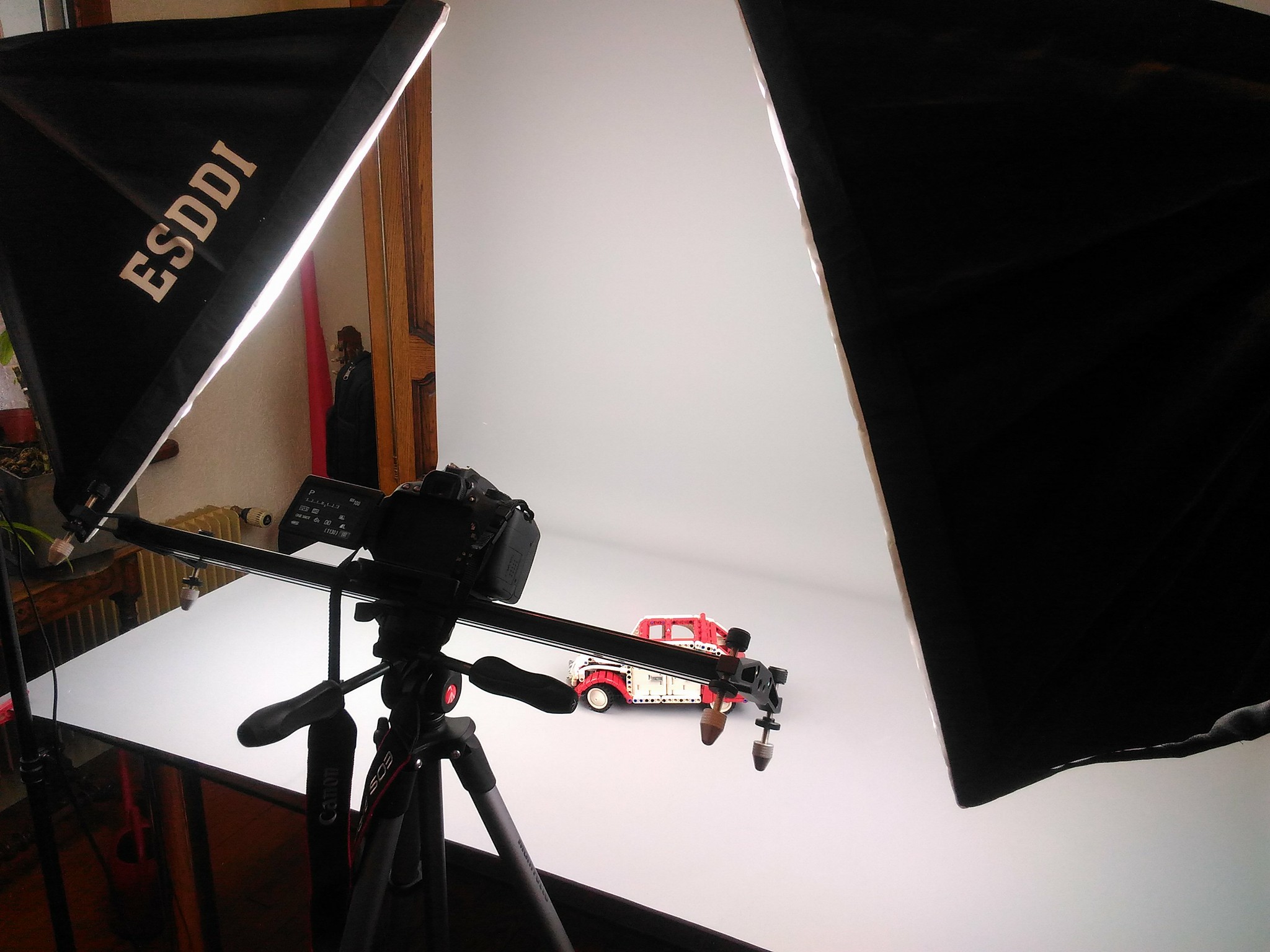 I have also replaced my editing software from window Movie Maker by the filmora editing software which is not expensive and have many features like timetable, sound effect, multiple video and transition. A bit like premiere pro or other but simplier and less expensive. I have also upgrade my graphic card for a Nvidia GTX 960 ti which is of course for gaming but also for video editing.
I have also moved my website on a new server dedicated because of the traffic, it costs more a years but enables me to have features that I need it for the payment, and better traffic management. I think now I have enough material to be comfortable to shot and editing video.
Mochub
The mochub service was definitively the biggest work I did on this year. Contacting my mochub in middle of year, I worked on it 6 month to get ready for 2018 to be present on the launch of mochub. What is mochub ? This is a website which enables the lego fans to buy creations from their lego authors. Including parts and building instruction. No need to order separately the parts and buy the instructions, all is now in one package. I have made a video explained the functioning of this service. And I will soon review a package send by mochub of a Citroen 2CV.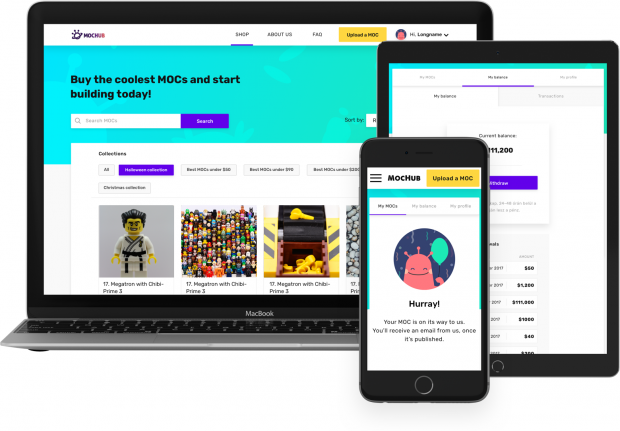 After selecting the moc I wanted to have for sale on mochub, I started to check all building instructions and bill of material on rebrickable and sheet. It has be a huge works on it, in order to not have mistakes. Plus that some of my creation for sale have been redesigned to have a price more affordable by not using rare and expensive parts. As mochub uses bricklink for sources the parts, it is sensible to the exchange rate of lego parts. That is why, sometime on some mocs, the price is not very cheap, plus if there are power functions elements.
This is the case of the big 2CV I made years ago. The number of parts (more than 2000) combined with very expensive wheels, shock absorbers, panel, flex and connector give a high price. That is why I started to work on a more affordable creation about a Citroen 2CV : the small 2Cv project was born.
The idea was to build a small Citroen 2CV with functions which uses common parts in order to have a low price. I consequently built a 2CV at 1/15 with many colored version available. After showing to some 2CV fan, I had great return and starts to sell it on mochub.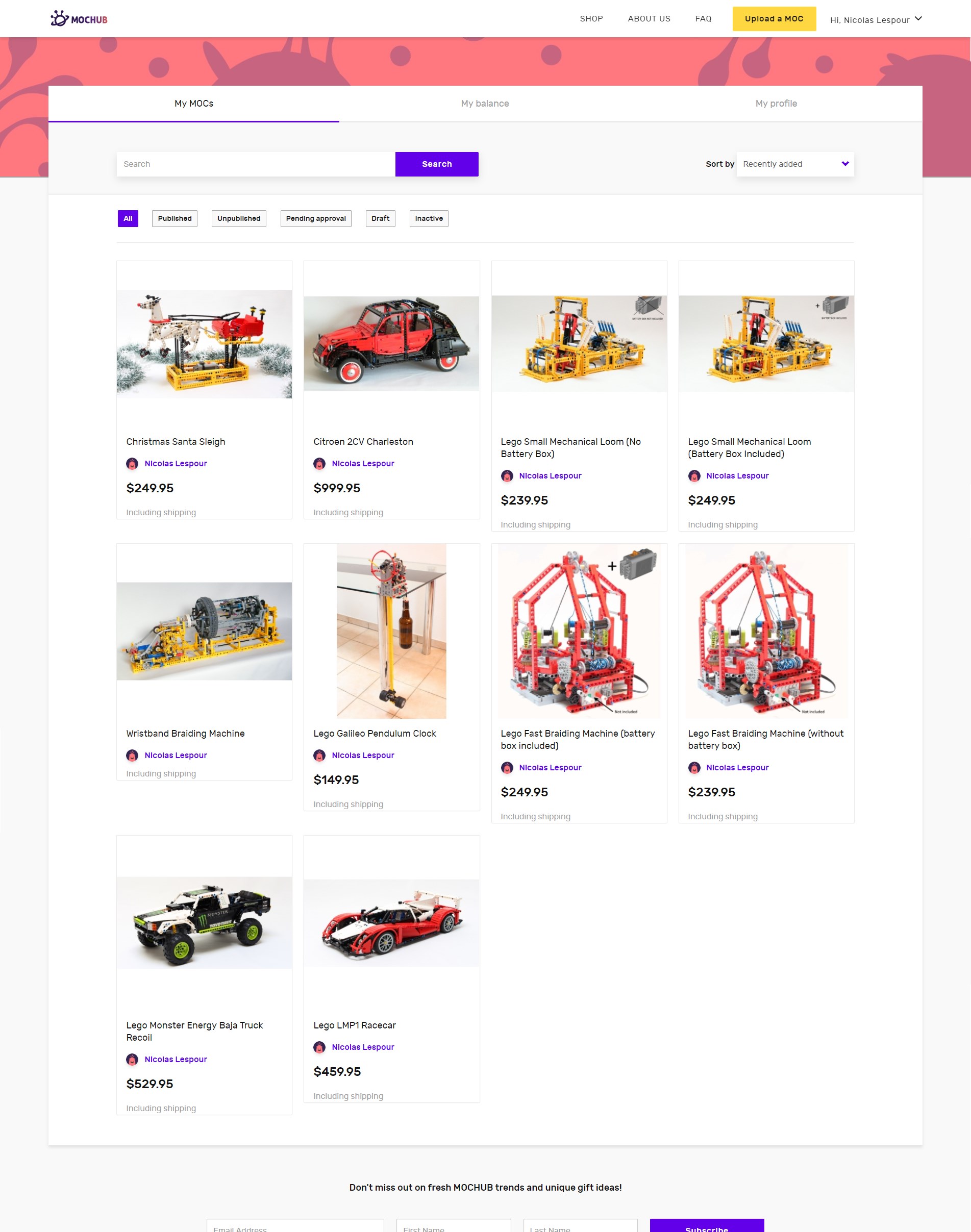 After two month of sale, I can say that I am very happy of it, I have sold tens of mechanical loom, braiding machine, and the small 2CV which have good success and comfort me that there are customer for offer like that, for people who are ok to pay more to not have to buy the parts on bricklink and avoid mistakes (plus that in certain region lego bricklink are very expensive). For people who find that this is too expensive for what it is, I understand the point, and truly encourage you to test on rebrickable the price of a creation before saying it is too expensive. And of course, if you are comfortable to order directly on bricklink depending of your collection, please dot it, this is not a obligation to buy on mochub.
"The idea in any way is not to make profit but enables everyone to buy a single package with all parts and instructions of my creations."
Please note also that the price on mochub includes shipping and there is small royalty for the designer (around 10% of price of parts). As it uses bricklink to sources the parts, it can never be the same price as the official lego set because bricklink vendor buy set and then dismantle them (so add a margins to live). And that the expected sale are not the same like Lego (no batch scale economy), mochub buy their lego parts to at full price (I think third or four time than lego produce) and then resell it by adding the value of packing all the parts for a dedicated moc. So this is the price, depending of bricklink, and I can do nothing for it, only by reducing my royalty which is almost low. Anyway, this services was very requested from fans so I hope you like it.
Stats
Youtube
I have made 21 videos in 2017, to compare with the 23 in 2016 (but with more announcement and 4 videos for one creation : mechanical calculator). For me despite the lack of video in begining of 2017, I have made more works about making video for the Vlog, and news serie "lego under x-ray". Despite that, the stats on youtube show a overall decrease.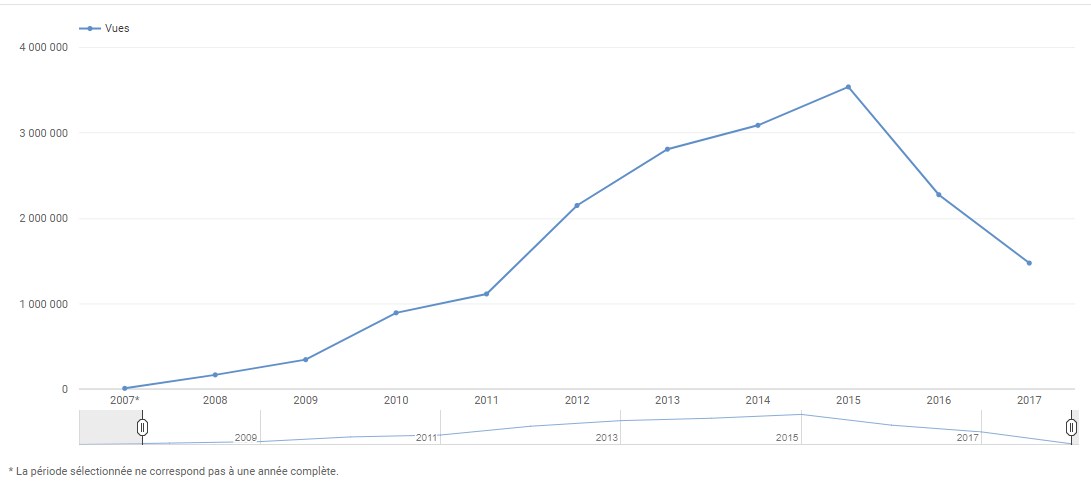 Overall stats from the begining 2007-2017
From the begining the channel grows slowly and then in 2013 the mechanical loom goes viral which bring lot of view to it. Late in 2014 and 2015, I have a constant growth but since 2016 I observe a decrease of view. I do not think this is due to the content in 2016 because I have made as usual one creation a month, and some of them has been viral and I tried to made quality works. Regarding 2017, I think this is a little due to the lack of video in beginning of 2017 but I think youtube has also not featured as usual my video. I have 40k subs which generate traffic on my channel, but when I have some video which has more than 100k views a month, this is not due to my subscribers, but from the viral users (when my video is enlighted on some website or by youtube in recommandation). So If youtube doesn't feature me as usual It affect the views.

Overall stats for 2017
Plus that concerning the revenue, it is very very low since 2015. This is due to youtube adpocalypse which is a escape of many ads group from youtube which consequently pay less and on less video. Plus that they have been since 2015 many bullshit content with fake news, prank, video top which have consequently grew and kept revenue and views from other videos. The fact is I think that people have many content to watch and not enough time to do it. That is why, I think youtube has becoming a not reliable source for view and revenue. Sometimes a video gone viral and make many view and some revenue, and sometime a other video (which is way better) has not the success it deserves (It can be demoralize to based only on youtube stats).
"It comforts me in the way to use youtube only for making video in addition to the pictures and reviews, but not to represent the way you like my video because some video goes viral, and some other not, not depending of the quality or the amount of works."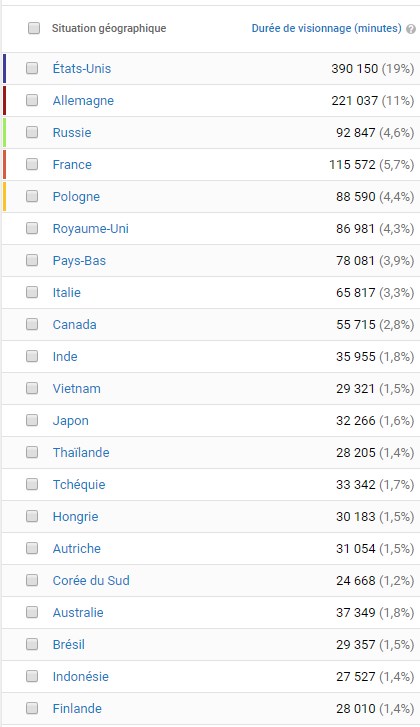 Top sources of traffic
So if youtube continue to this way, I think remove the ads on my channel, this is not for a few dollars that seems worthwile. The only intterogation is about that if my video is not monetized, youtube will feature less (because youtube only featured ads-friendly content at this stage). To finish, here is the most viewed video of the year :

Good news, this is no longer the mechanical loom which is first (such a crappy video). The top is composed of good videos with good creations (the mechanical loom is a good creation but a crappy work in progress video). The Hot bulb tractor is a bit old video, but the Fast Braiding Machine is a good surprise because this is a creation who deserves many views and it has.
Nico71 blog
This is not many to say about the nico71 blog. As I said in 2016 the aim of nico71.fr is to bring all data of my works, including review, pictures, videos, and building instructions. As a new functionality is the automated process for payment for building instructions using paypal button. I do not have now to send you manually the PDF, all is generate and then automatically. It can occur some fails on old device but in general it works very fine and user are happy with it.
Regarding the stats, they are a bit in decrease I think because of the 3 months without video in beginning of 2017 and because the Vlog post is not very interesting as the main information is on the video.
2016 : 17k sessions, 66k viewed pages, 3.30min average time
2017 : 14k sessions, 50k viewed pages, 3.30min average time
Stats about country, language and new visitor/old are the same in 2016. Here the 2017 graph :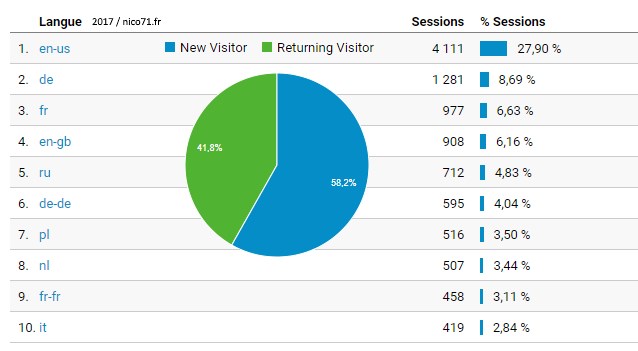 I have also rework all thumbnail of my channel with clear color scheme according to my blog, now it looks more pro !
Conclusion – 10 years of Lego
2017 is special, I have my end of darkage in 2007, so now I make lego on youtube and on my blog for 10 years ! 10 years of creations (around one/month, more than 70 now, not all published), 10 years of making videos, and building instructions, 10 year to create a community of fans which now 40k subscribers on youtube and more than 3.000 on Facebook.
So what remember of this year ? That I continued making lego, create video and more building instructions, but also started new project, like vlog, lego under x-ray serie, and mochub. I can say today that all services for my fans are available, for buying instructions, for buying parts, or just watching my creations.
And what remember of this 10 years ? That I still in activity, to compare with other person who have stopped lego activity, I remember many name of brickshelf on the begining when I looked for new project on inspiration. Now, many have stopped working with lego, but no worry, many have picked up the torch and create many interesting things ! I think I am the oldest lego technic creator still in activity, with sariel and maybe majhqa but still not news since months.
"My policy has never changed, I always wanted that a maximum of people build my creation, that is why I take pictures of inside, underneath, make building instructions and now sell complete package on mochub."
The only thing which changes is that now some instructions are for sale but are better quality. And as I said, there are still a free one, so is up to you to support my work by purchasing an instruction or not. The goal is only to enable you to rebuild a creation of mine.
What's next ? I am afraid that I can not tell now, after 10 years. Making lego was a passion for me and I want to continue as far as possible, but the years go, and I have less and less time to do, because of works, family and other hobby. I am sometime discouraged by hater's comment and people always angry about selling instructions or selling moc, but to be honest, I had always made lego for me, to build something and enjoy it, and if people rebuild it, I am happy with it. It is obvious that I was not able to make all this if I would have not compensation (like buying parts, paying the host, server etc.).
I have the chance to create lego quickly, with 20-30 hours of works I create a moc, but make the pictures, photoshop, shot the video, editing, put on youtube, write the English/French review, make the building instructions, take many hours. At minimum 10h with no building instructions and at maximum hundreds. If I do not make building instructions or writing or videos, I could build twice more, that is why I want to build up on this in order that this time will be useful.
"If there comes a time when I have not enough time to make lego, I will no longer make many mocs and instructions, only pictures and videos, maybe review and just build slower."
So I can not say what the future will be but what I can say, is that I thank you, all of you, to be here with me, to comment and share and like my creations, and also to create lego and keep growing this community. Have a nice year and keep the good (lego) work !