After my first atempt to 8×8 truck, I decided to create a simply and effective 4×4. I have chosen a unimog because of its look and clearing abilities. The truck is equiped with pendular axles, drive and steering.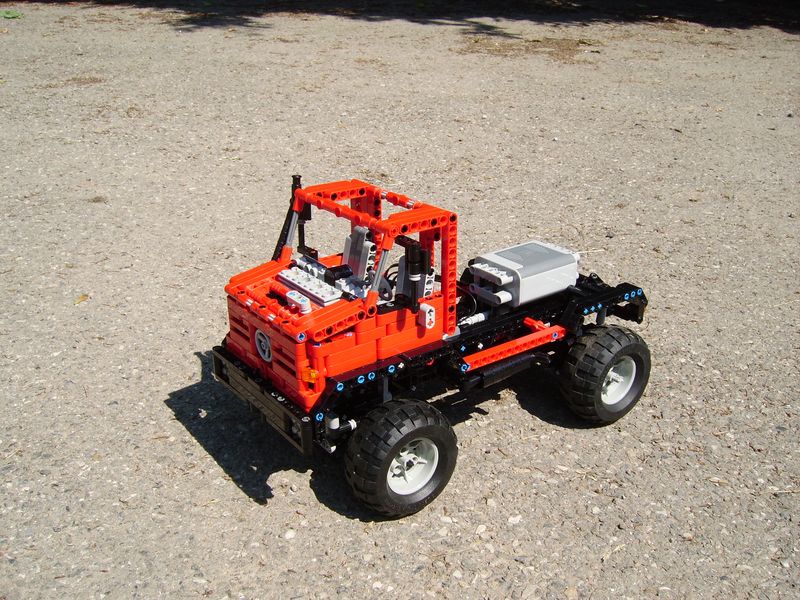 The unimog 4×4 is in 1:10 scale with 8cm wheels. It's based on simple pendular axles without portal axle. The axles are very strong but quite bulky. The XL motor drives all wheels with a 2-speed gearbox. A M motor placed under the fake engine operates the steering. The fake I4 engine is connected to the drivetrain with a chain. When I created this truck, I was suprise by the clearing abilities. Even if the axles are bulky, the truck are very reliable. This is why I have chosen to create the building instructions.
I have created the building instructions. You can watch them by browsing my webiste or
Downloading the zip archive. Lego Unimog TT by Nico71 – 15mo.
You can also download the 3D file which has been made by a fan but not verified. Trial Truck Unimog U5000 (3D file, Ldraw, format in ZIP file 68ko)

Want to check before if you can build this moc ? The Unimog V1 PFS has been indexed to Rebrickable.com, the website which matchs your parts with mocs !
Designed in 2008