2016 has been a wonderful year, for creations, instructions, new concept of video. Here is a summary of what happens in 2016 !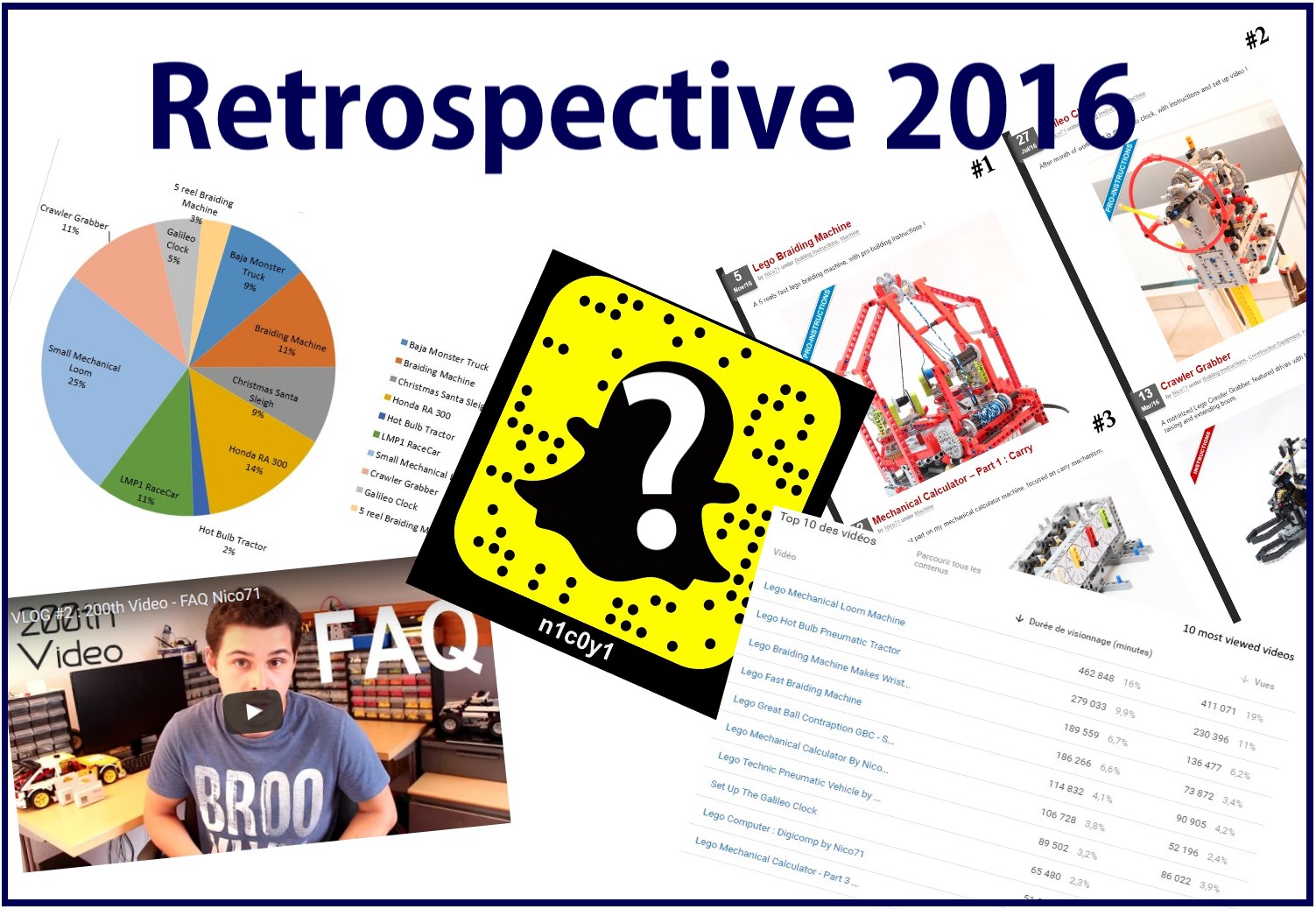 Creations
There were 12 creations for the 2016 year, which is very good for me, 1/month despite the holiday (also 13 in 2015 including 3 module of GBC). Here is the most viewed creations (for the 1st month of launch) :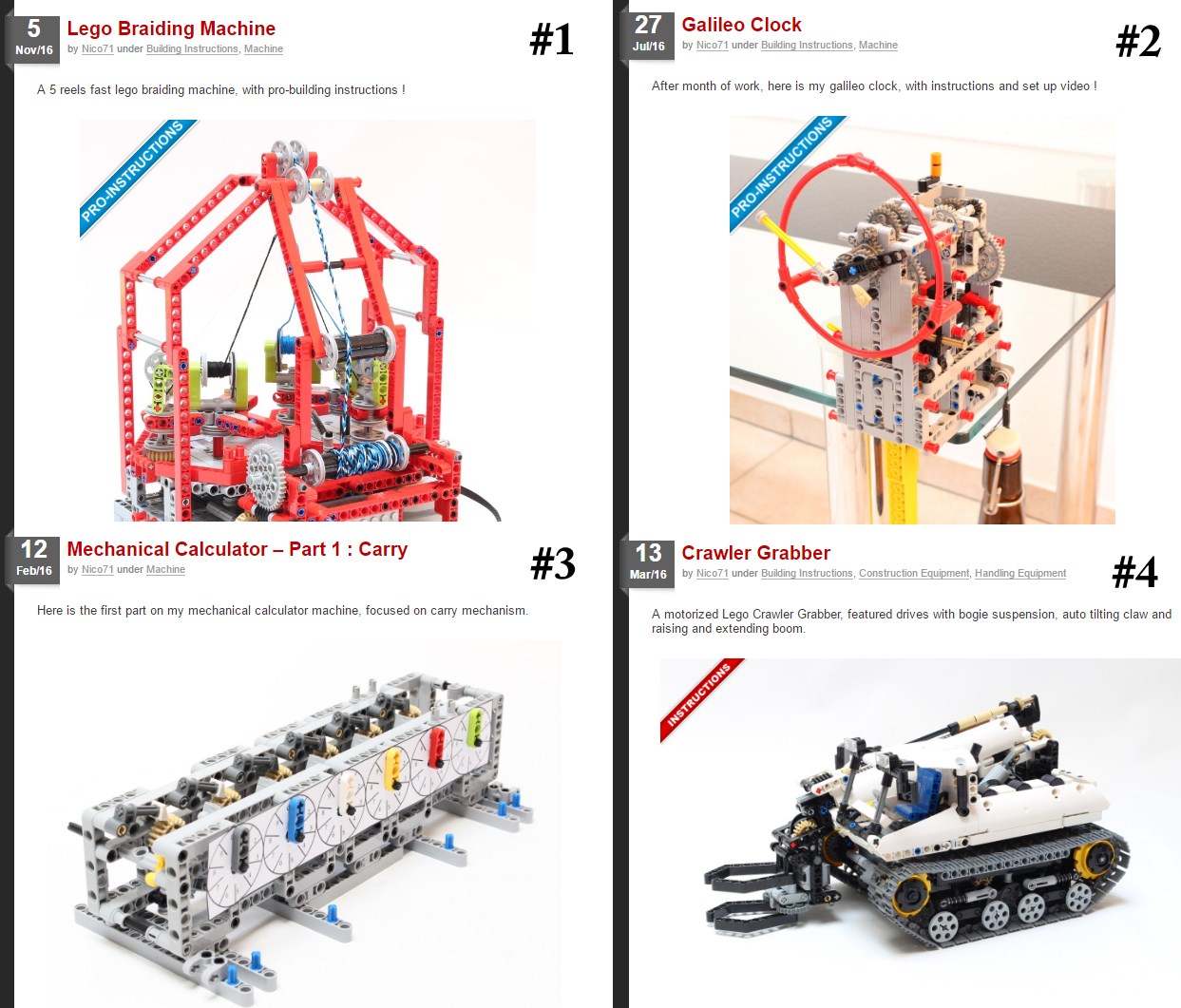 Which comforts me that you like mechanical content such as machine or mechanical device (braiding machine, calculator, clock), but also some unique and clever vehicle or concept. For instance the Crawler Grabber or Crawler 8×8 but not as much the classic vehicle like the Rally Car or Classic Car. I understand this point, nevertheless it is important to me to make some vehicle of my choice between two huge creations, in order to breathe about it.
Instructions
Also a very good year in deed, I would like to improve the number and the quality of pro-building instructions without providing less. On the 12 creations of the year, there were 10 building instructions, with 2 pro one (for sale) plus 2 of old creations (twisting machine and hotbulb tractor). For 2015, there were 13 creations with 8 instructions for 6 pro one. Regarding the sale of the instructions, here is a graphic which display the repartition for the beginning (since the 1/1/15).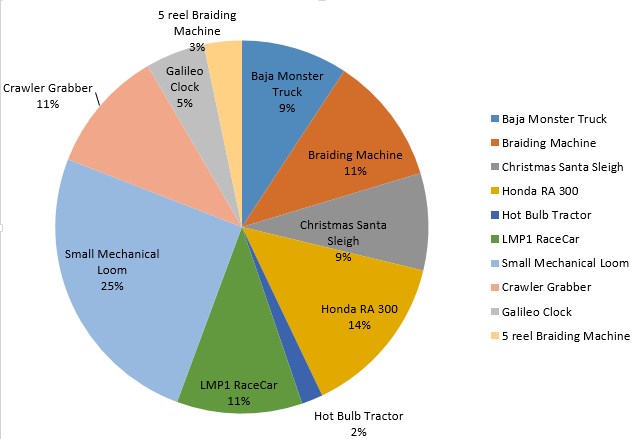 Of course the most liked instructions are the braided one, the mechanical loom and braiding machine have a good success for a average twice much sale in the first month that after. It encourages me to continue in this way because you are now the same amount of people who build my creations with the pro instructions and the standard (if I based on download stats). Note that the best countries for sale instructions are (ranked) Germany (19%), USA (15%), UK (13%), France (10%), Canada (4%) and Chine (3%). I am happy to touch a lot of country, in africa, asia, and europe. With this reward, I could buy a new bridge camera in 2015 (Canon 700D) and this year replace my old tripod, and buy a bag for my camera. I am planning to change the background for shooting with new material and lights in 2017.
New Concept
In 2016 I would like to start new concept regarding my youtube channel. I would like to be more present for my community of fan. I have already my page facebook with now 3000 likes but I wanted to give more to my fans. That is why I have started Vloging about lego. First with a Behind the Scene Video and then a FAQ video. Both receive great welcome and encourage me to do more.
I plan to make more video in this type for 2017 but there is a big problem about it : the subtitles. Make the english subtitles takes very long time. Producing the video is easy but subtitles very boring, that is why, if there are some volunteers for that, please contact me ! Also, I have created a snapchat account in order to follow my work day by day. I publish my progress on my project, with fail or not, also some other thing connected to lego. You can add me by snap the snapcode of add by name : n1c0y1 .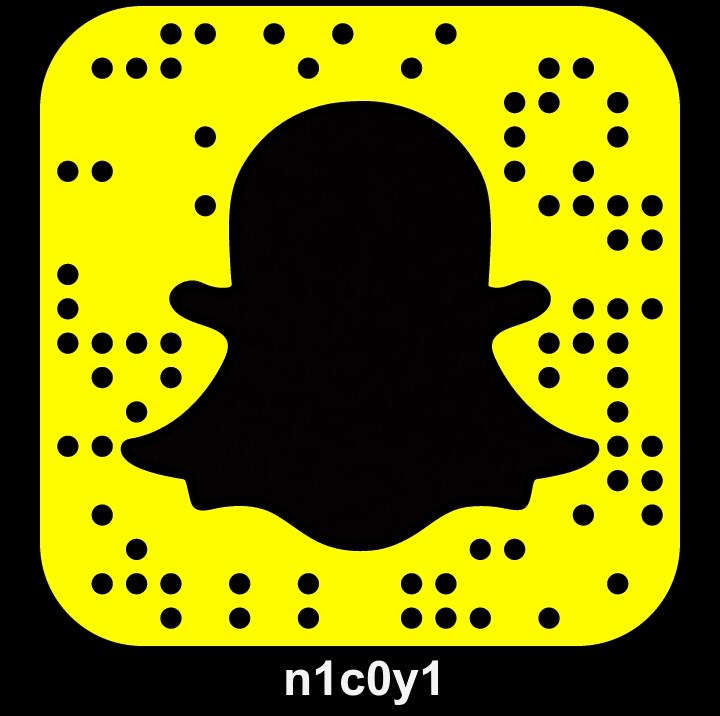 I am planing to make best of snapchat in youtube for people who do not have snapchat. Maybe also creating some live in order to watch me building some stuff and talking by chat or microphone. But I play lego some hours in week, hard to tell when and to be intune with the USA audience. Keep in mind for the next.
Stats
To finish, here is some stats for the 2016 year (compare wich 2015).
Blog :
User : 15000/month
Viewed Page : 50000/month
3 pages per session average / 3min average time
60/40 of new user and returning user
55% man / 45% woman
The result is basically the same as 2015 with a little 5 or 7% in grown. But the most viewed page as change in number. In 2011 you were 10% to go to the building instructions page. For now, you are 25% ! Which is huge for a Blog Website with many posts. It comforts me in the decision to gather all informations regarding my creation (picture, video, article, instructions). Before that, the instructions were uploaded on other website, picture too. Now, all data is my blog, which is more handy for me and you. Note also that you are 50% to get in with direct link and 20% with google, which shown that the audience know nico71. The aim of nico71 is not to grown and grown, the aim is to be a database for my creations for support the youtube video which is the bigger audience.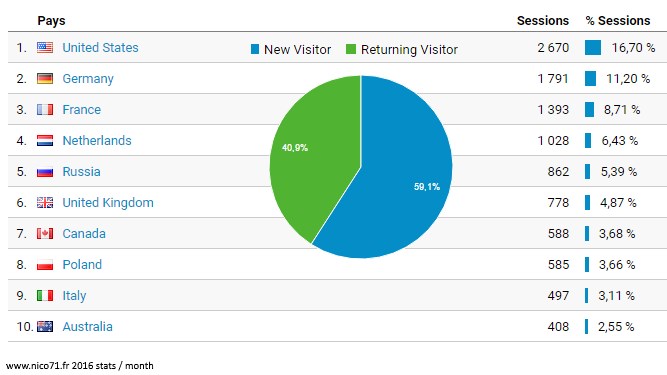 Youtube :
View / year : 2 200 000 (2015 : 3 600 000)
15000 likes / 1200 comment (14000 and 1100 in 2015)
5700 new followers (8400 in 2015)
1700 shares (1200 shares)
A average year for youtube. More videos and content but less view and incomes. I was also victim of youtube algorithm regarding the community. Which highlights videos with big community and many interactions. As I publish consistent (but monthly) content and have a small community regarding other (daily vlog for instance), youtube do not highlight me. BUT, that I note is my community is growing up and is more active on my video, which is the most important for me.
Regarding the income there were pretty bad because of the low CPM of the year (more videos, mores channel, the same amount of ads for all so less incomes), and because the most viewed video of my channel (the first 3 on the picture) is not monetized because of copyright claim. Now I use non-copyright song to avoid that and plan to reupload this content in order to have only my content on my channel (we do not know what youtube can decide in the future regarding the copyright).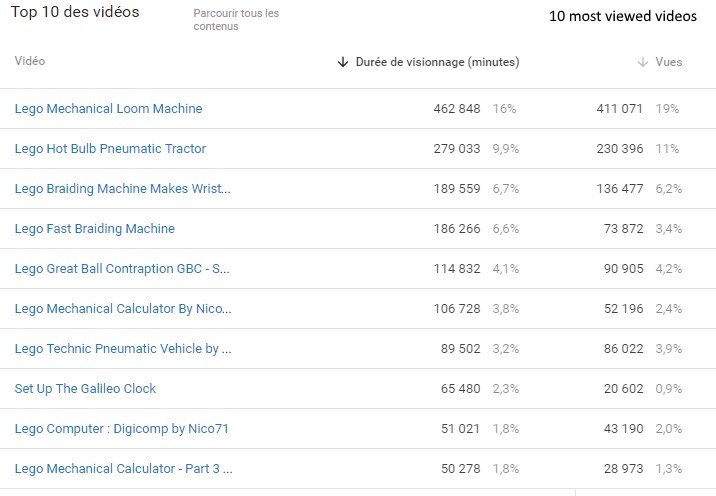 Nevertheless, many of my creations have been featured on website like topgear, discovery channel, gizmondo, hackaday, which gives lot of visibility to my video. The braiding machine has been as featured as the small mechanical loom, which encourage me to build a big new inventive creation / year.
Conclusion
Therefore, What remember of this year ? First that the mechanical device always be liked by you. Second that you like the vlog I make, also interact with me of other fans. That you like also the new setup of the video (new camera and background since 2015). That you want more videos (I try I try but it is not easy haha). That despite the low incomes and youtube problem of 2016, you are more and more on the facebook page and youtube, and continuing giving me the wish to continue this passion by supporting me, help me or buying my instruction !
Regarding future plans, I have many ideas to make on lego, some easy, some hard. I will try to make one creation / month with instructions, despite the fact that I start a new job in February and move on (always same region). So I will have less time in the week but more the week end so I hope it will ok for making some lego and continue to interact with you. I hope that this year will be nice for me and for you and thank you again for your support 🙂