My first Trial Truck with 94mm wheels. Features drive, steering, fake engine and independent suspensions with swinging half-axles. Including building instructions.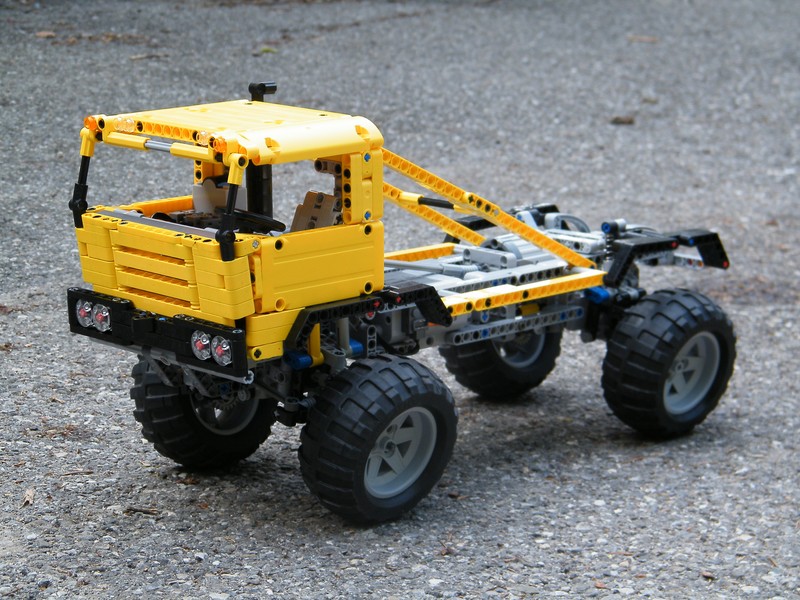 The aim of this truck was to participated at the contest organized by Freelug at Fana'briques 2010. The main impositions were : powerful, high ground clearance, small turning radius and full independent suspensions. In order to complete the challenge, I have ordered 2 94mm-diameter wheels,then the building process could start. The axle are the most resistant tatra's axles I have made, because I used this parts to create the bevel gears, reinforced by transverse liftarms to lock the structure. The 94mm-diameter wheels enable to use portal axles with high ground clearance. The final reduction is 12/20, 8/24, 8/24 so 1/15.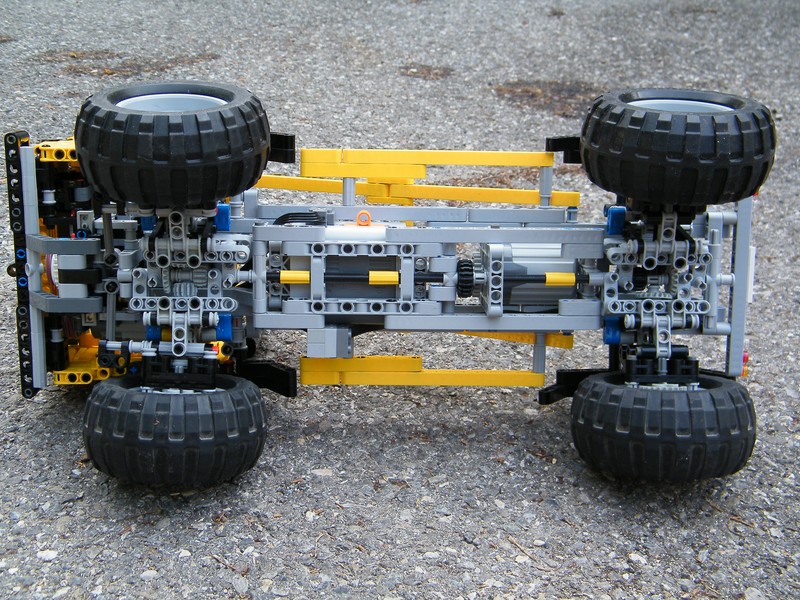 In order to have the maximum of stability on slope, I have chosen during the building process that the Battery Box will be in the frame, in the front for 66/33 wheight distribution. As far as I know, the 66/33 weight distribution is very good for clearing abilities with real off-roader vehicles (you can consult this post to understand why). To avoid a complex drive-train to give power on the fake engine, I used a simple drive-shaft as real, built with 2 U-joins. Considering the small place I had near the XL motor, I have chosen to build the U-join with a Ribbed Hose as suggested on the official lego patent.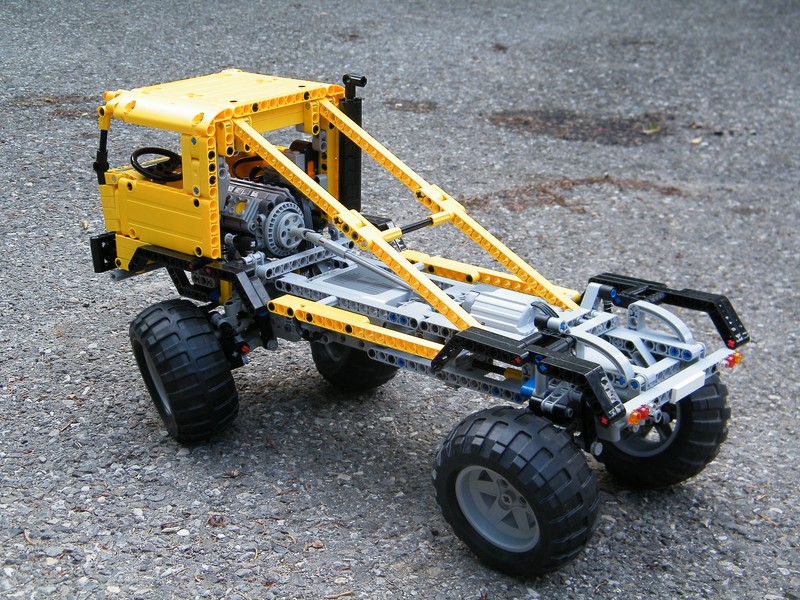 The steering is operated by a M-motor hidden in the cab, It drives 2 pulley with Rubber Belts, before the 8t/rack pinion. The turning radius is 50cm, that is quite good considering the scale. The real Tatra has a turning radius of 7.5m (15m to 180° turning), with 1/12 scale, the corresponding turning radius I have is 6m, that is really good. To conclude with the clearing abilities, they are really good, much better than my unimog (V2), thanks to the wheels, the ground clearance and the turning radius. The suspensions work great but this type of axles generates a little friction on the bearing axles, that is why it still could be improved. Fortunately, it's the main purpose of the quest of "holy trial truck". Nota : on the video the battery box is really tired. You can watch the building instructions here.
Another Youtube's videos by Legoman104
The building instructions are available. You can watch them by browsing my website or
Download the Zip Archive of the Tatra 4×4's instructions, 7 mo, ZIP.
Designed in 2010