Here is the retrospective of the 2020 year, with important moments, stats and future projects.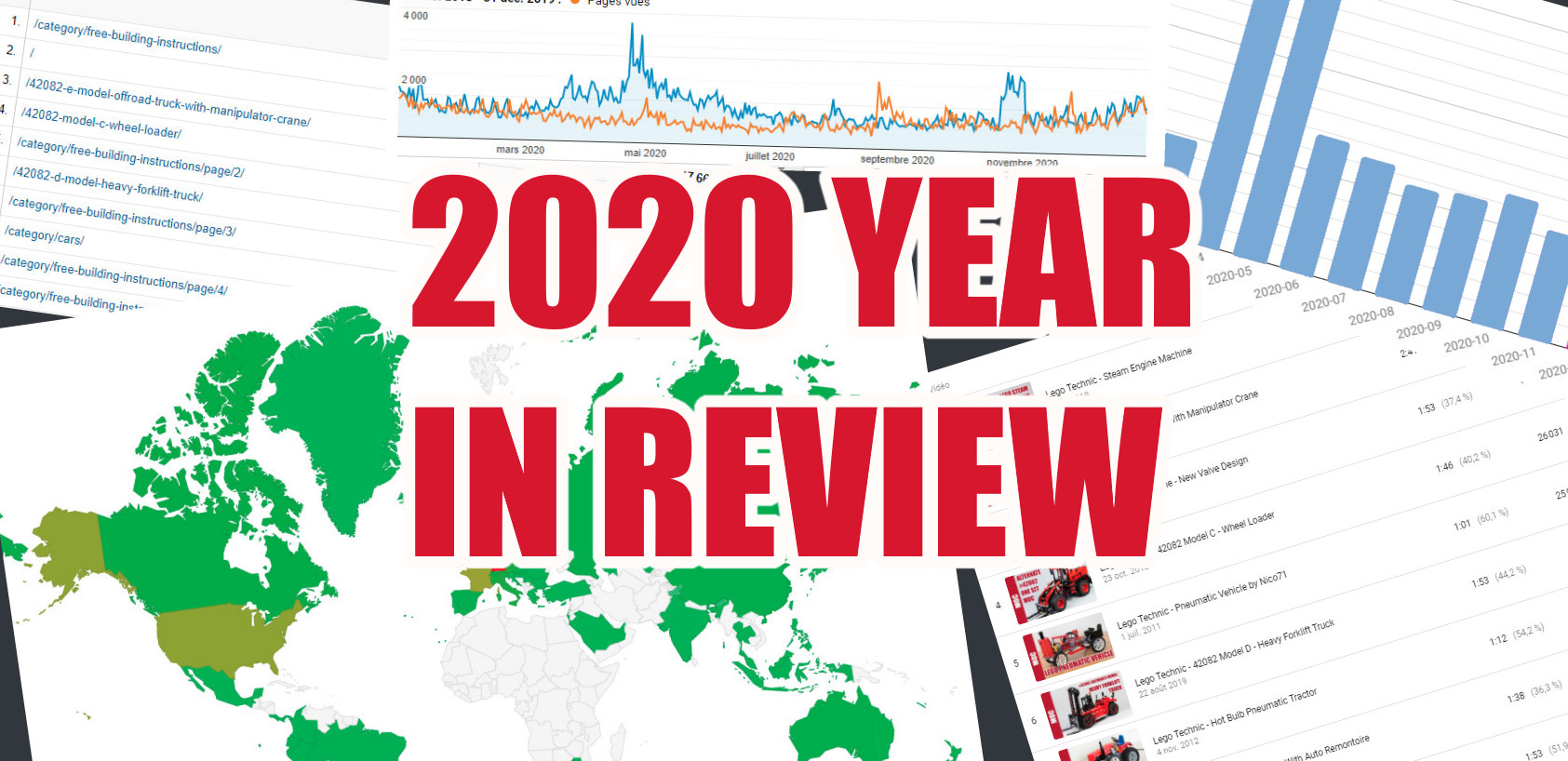 Creations
There were 6 creations this year, same as 2019. The most notable creation was my 42082 Model E – Offroad Truck which had a huge success on social media and have been in top selling on rebrickable for some weeks. Adding this to the Covid situation gives lot of traffic on nico71.fr which drop to 430k viewed page (310k in 2019).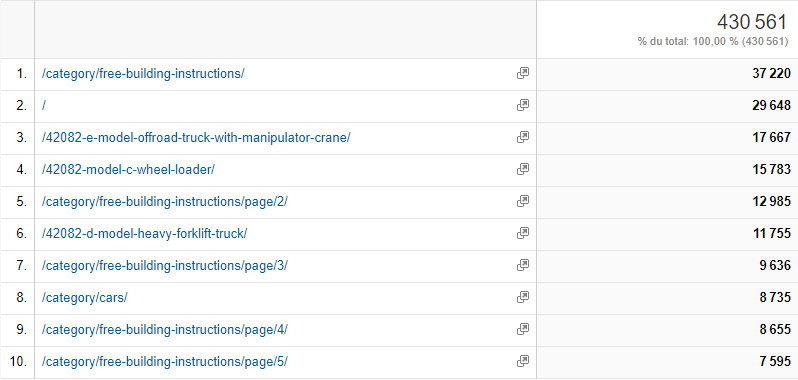 Most viewed page of 2020 on nico71.fr
I have spent many time on the Kumihimo braiding machine, with confidential sales, but I am happy to have succeded to create a mechanical "brain" for this machine, despite the fact it was slow. I am also very happy of the success on youtube of the Pneumatic Bicycle which requires a new engine to be developed. I hope this new type of switching mechanism can help people with unmodified parts and hard lego switches. To finish, with no surprise, the 42082 alternate model are the most searched. It is an easy to get set and as I provide 3 different alternate models, people can find what they want. The second combined search is about the free building instructions, as I have a lot on this website, it remains a popular search.
Instructions
Regarding the instructions, there are now 73 instructions for free plus 64 for sale. On the 6 creations of the year, 5 have been designed with building instructions for sale. As told in 2019, this is something I have decided in 2019 : make every new creation with building instructions, mostly for sale. I know that some people will find this is not very good to pay for instructions but I think that the mentalities have changed since some years, and people are agreed to spend 10€ more for a nice building instructions when they bought a 200€ set, considering it gives many hours of additional building. The Covid situation has also boosted the sale with many time to fill with Lego play and surely kids to occupy.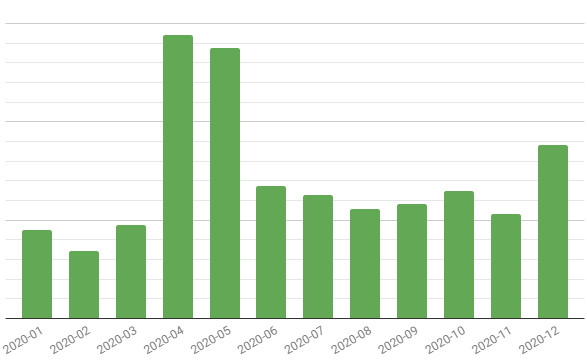 Tendency of sold instructions for 2020
You can see on the above graph that the lockdown and covid situation has massively increased the sale in April and May. It can also be because of the 42082 Model E that I released with bundle with the 42082 Model C and D, providing a discount of 15% or 20%. An other interesting stat I wanted to share it the sale per country. I have started to compilate data from customer's country, here is the result, with top selling country in red, and lowest in green.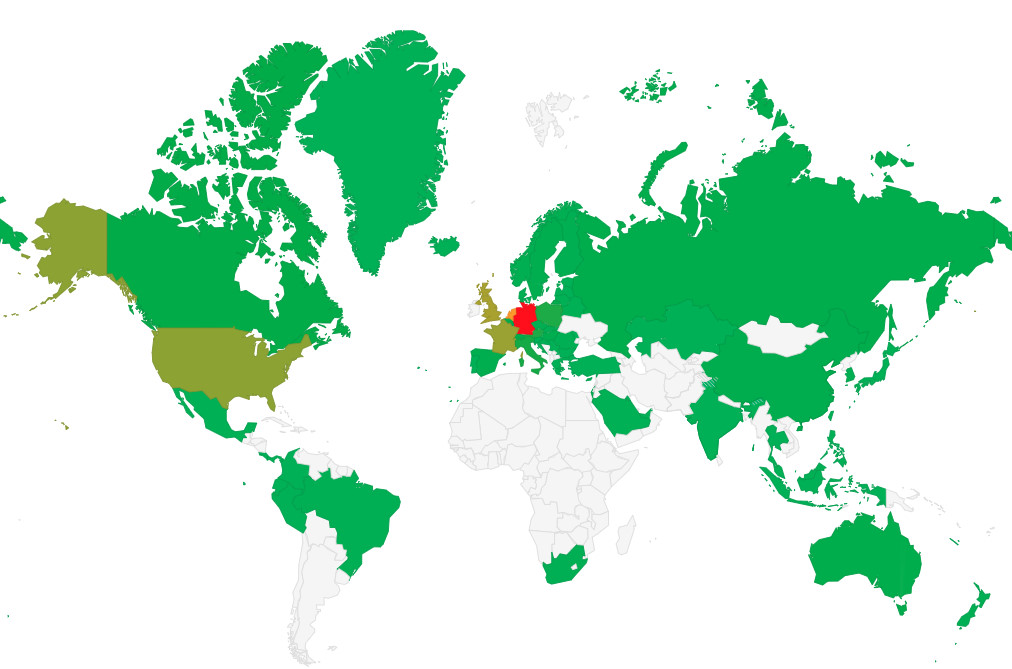 Repartition of instructions sale per country (green is low, red is high)
With no surprise, the Europe and USA are the top selling country, but I live in hope that one day I will color all the countries on the map!
Lego Recognized Fan Media
In 2019, I announced that I was selected to be a Lego Recognized Fan Media, it enabled me to have some sets to review, in exchange of visibility for the Lego group, for instance the 42093 and the 42100. But it comes also with a bad news in the middle of the year 2020, as Lego decided to remove me from the partnership. The given reasons were that my participation was too low and that I had already a "business" in Lego field. The first point is legitimate as there is lot of content to read on the Lego Lan, I have not succeeded to participate enough. But the second reason was a bit obscure for me as many other LRFM have business in Lego field, for instance a monetized YouTube channel, partnership with local store, magazine and use also the given set to that business. As for my side, I have only used the given set for the purpose of review, with no plan to make money on it (for instance making video or instructions) so I would prefer that Lego told me clearly that the visibility I gave to us didn't worth the sets they gave to me, after all, this is a influencer job : goods in exchange of visibility. So I continue 2020 and 2021 with no affiliation with the Lego group, but will apply again if Lego willing to.

Recognized Lego Fan Media Logo
Achievements
This is hard to make a year better than in 2019 in achievements : visiting of Lego Billund facility, and the Nasa at Houston. So there is not much here to say except one thing : as my sales were very good this year, and continue to growth, I have decided to left my current job and focus on 100% on nico71.fr as a full time job. It provides me more time to create and share. You have certainly see that I publish more new creations on YouTube and social media in the beginning of this year. I want for this year to focus on creating content based on my creations, with for instance more YouTube video to present and explain how I build. It gives me also more time to answer all the comment and questions I have from my fans, but also have the opportunity to work with company as I did before to create custom creations. On this point, I have a current project linked to an automotive brand, and hope I release it in end of 2021. I also plan to create a dedicated page to explain what I can propose but for now, if you are a company and wanted a Lego custom creations, for display, sales, education, please contact me using the contact form.
On the material side, I have just renew my licence for Lightroom and buy Filmora 9 for editing video as it handles now the 4k60fps of my Panasonic GH5. I have also upgraded my computer for video editing and creating instructions with AMD ryzen 5 processor and 32gb ram, indeed, this is way fast that my old Intel i5 ! To finish I have recently get a Rode lavalier microphone which will help in taking sound from the creations and for voice over.
Buildamoc
In 2019 I wrote that I was disappointed to see that the cost of the parts increased at Mochub which increased the price of new creations too. As buying a creations on Mochub was not already placed in term of price, it was difficult to justify a high price comparing to sourcing the parts by your own (even if you pay for the Mochub service which sources the parts for you and take the risk to store parts). 2020 has given a new competitor in this field, which is Buildamoc. This is nearly the same functioning as Mochub, you can buy custom Lego product on Buildamoc, with the building instructions, genuine Lego parts and with royalties for the author of the creation. The difference is that the price is lower than Mochub.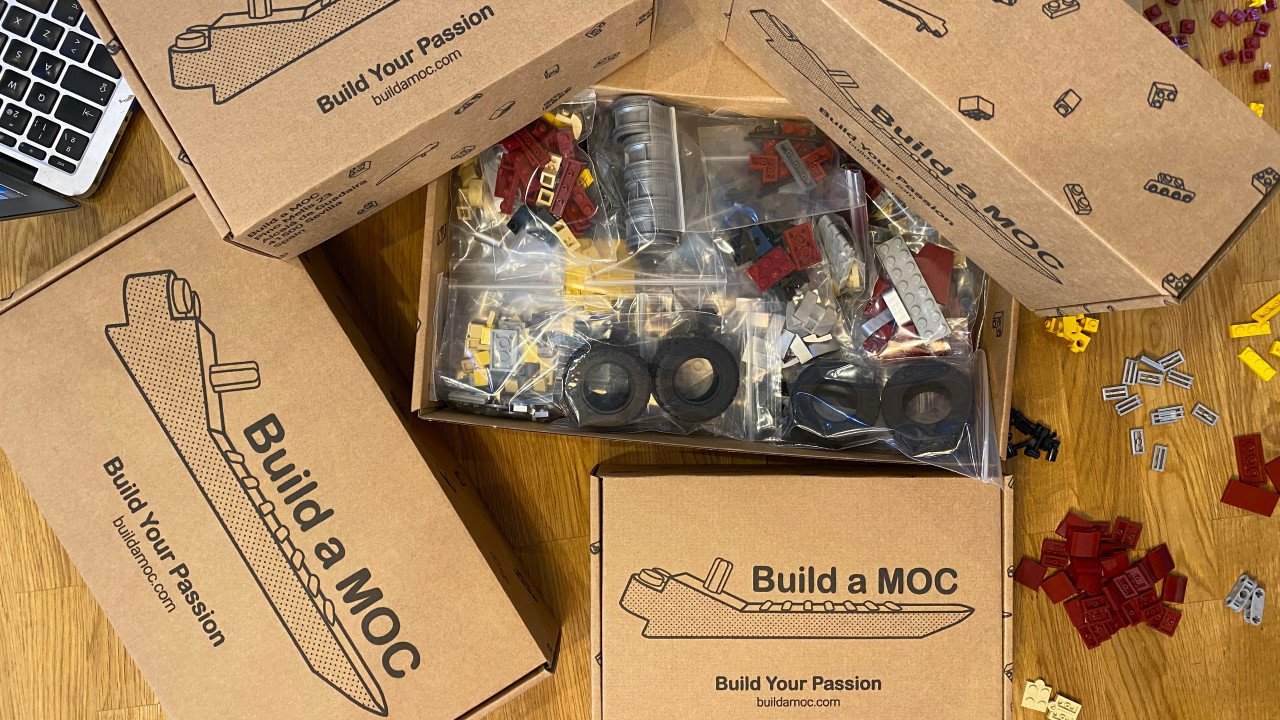 Buildamoc picture
The lower price gives indeed more sale in global. I have transferred some creations which were not competitive from Mochub to Buildamoc, and I have created a dedicated one which is the Vertical Pneumatic Engine in three versions. This creation sells well, as it has a low price, is nice to build and is liked by people not necessarily fan of Lego, but mostly kinetic sculpture. For the future, I plan to propose more creations if possible. Please note that I do not choose the selling price (as Mochub), it is based on Bricklink cost of each parts + handling from Buildamoc. There are even some creations which gives less royalties that selling a building instructions. So you can see it as a additional service if you do not want to source the parts by your own, for you or for a gift for example.
Also, by seeing that many of my creations are sold illegally on Chinese websites with fake Lego parts, I have created a page to guide people who want to buy my creations to find original Nico71's product and not fake copy. For now there are only two official resellers which sell Nico71's product : Buildamoc and Mochub. All other products you can find are not authorized (even on well known Jeff Bezos's online store) and buying such fake Lego creations, is encouraging piracy and infringe law of intellectual property.
Stats
YouTube
There were 10 videos in 2020 which included : 6 creations, 2 announcement, and 2 how to set up. I have not made many creations but I am happy with the quality of them. As written before, I plan to publish more creations (hope 1 a month instead of 1 in 2 months) and publish more linked content like building vlog, questions/answers on a creation, and start making live if my poor connection enable me to do.
Regarding the YouTube stats of the years, the Steam Engine Machine is still on the top of the ranking. Thanks to the field of the creation, it is massively recommended by YouTube so views continue to increase (see the 237k). The 42082 Model E is the second in the list, with a small total of view compared to the steam machine, but YouTube doesn't really recommends this video so the views are mainly based of fan of Lego, and seeing the total (53k), this is a very good success for me. I am very happy with the 3th rank which is the Pneumatic engine with new valve design. It represents for me the heart of Lego technic, with a video which presents a new concept, explain why it is built, and how it works, but also the limitations, and opens new horizon for making other creations based on it : it is like mechanical research. To finish the model 42082 C and D are still in the ranking in 4th and 6th position which is not surprising considering the popularity of the set and alternate model in general.
For the first year, my old videos like the loom or pneumatic vehicle go out the ranking which bring two points. The first is that it is nice because it gives a good signal to YouTube that now my most watched videos are recent videos and not old one, which means the channel is getting "younger" and "fresher" and can bring more subscribers and views via the YouTube recommendation. But in other hand, these old video gives a lot of views to my channel, making also a good signal to YouTube for the algorithm. In fact YouTube recommended them, but if people do not subscribe or watching more content of my own, he decides that this is not a good recommended video. So I think these video had make their time now and that the more recent videos bring me more subscribers and watch time than old one, that is why YouTube recommends it.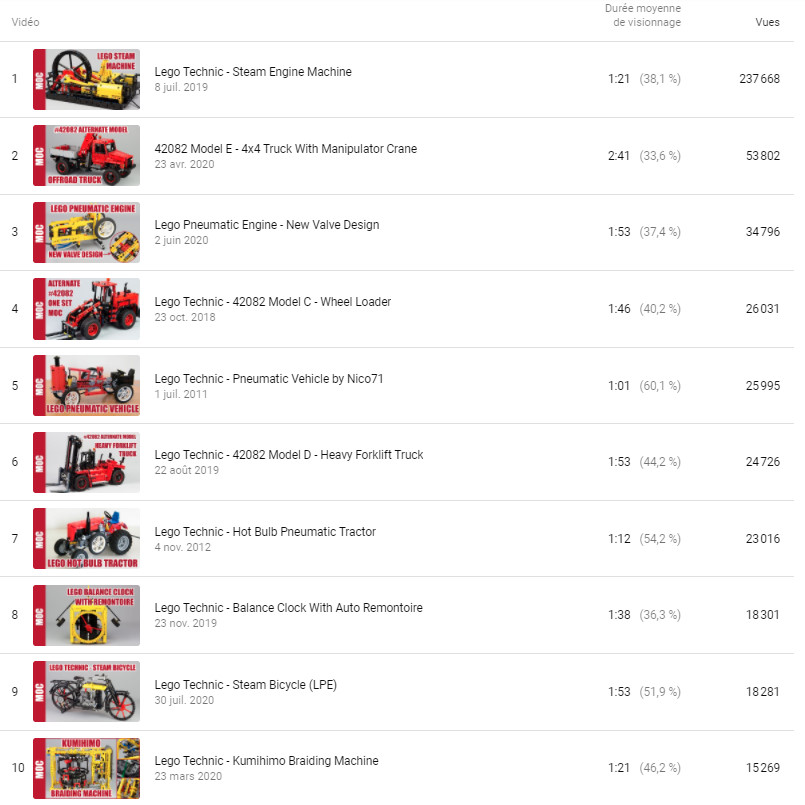 Top viewed video of 2020
Even if YouTube still recommended my videos, it generates very low revenue. This is because of the same factor of 2018 and 2019 : YouTube views are decreasing because there are many videos on YouTube now and people have not so many time to watch, plus that the Lego creation video is less viewed than Review for instance. This combining with a massive drop of the CPM due to the Covid situation, I am thinking about remove all ads on my YouTube channel, in order to have less intrusive ads. But recently I see that YouTube might decide that every video would be monetized despite the choice of the author, combining with the fact that 50% of devices are equipped with AdBlock, I do not know if it's worth it or not.

Views on 2020 for YouTube channel
Comparing to 2019, the YouTube stats are better, I have made 868k views (707k in 2019), 22k hours of watching (17.5k in 2019) and get 2.8k subscribers (2.4k in 2019). This is mostly due to the Covid situation. The big peak in May is not linked with any new creations, but it was due to a YouTube recommendation of the Steam Engine. Here is a nice example which shows the power of the algorithm, which can bring many views without any control on it. As you see, the total views of my channel are not made by the subscribers but mainly by the recommendation. In fact 90% of people who watch my video are not subscribed, which is a huge number. It shows also the "sleeping potential" of the channel, imagine that I double this number (20%), I double my subscribers number (100k). It takes me over 10 years to reach 47.5k subscribers, but the algorithm can clearly boost or bury the channel in some years. That is why I wanted to focus on my channel, in order to reach all these people who watch without being subscribed and develop the community.
Nico71 blog
There is an increase of about 40% of the view this year, for the same reason as above (Covid Situation and 42082 alternate model) but maybe also because the website is now responsive which leads to have more people who stay on the website to navigate.

Page viewed in 2019 (orange) and 2020 (blue) on Nico71.fr
As written in 2019, the aim of nico71.fr is not to have many views, but to centralise all the data on my creations, pictures, videos, articles and so on. Nevertheless I have started to add more functions on my website like the automated discount for bundle available on all creations, but also worked on back end function such as a gift card option and customer account. I work also on adding instructions for old creations with the help of Forelockmocs. In any case, stay tuned to the Facebook page or Instagram for new creations, instructions or functionalities on my website.
Conclusion
So what remember of this year ? Despite the Covid Situation which affects everyone, I had a pretty nice year in term of Lego, with successful creations, new project like Buildamoc but more important : my decision to work at full time on nico71.fr and make my dream comes true : live from my passion. I have lot of projects to do for this year so I hope I will succeeded to do so and will meet you next year for the debriefing ! I wish you happy new year and happy Lego building !