Here is a presentation of the new service Buildamoc : a website when you can order Lego creations from designer in only one package with everything you need.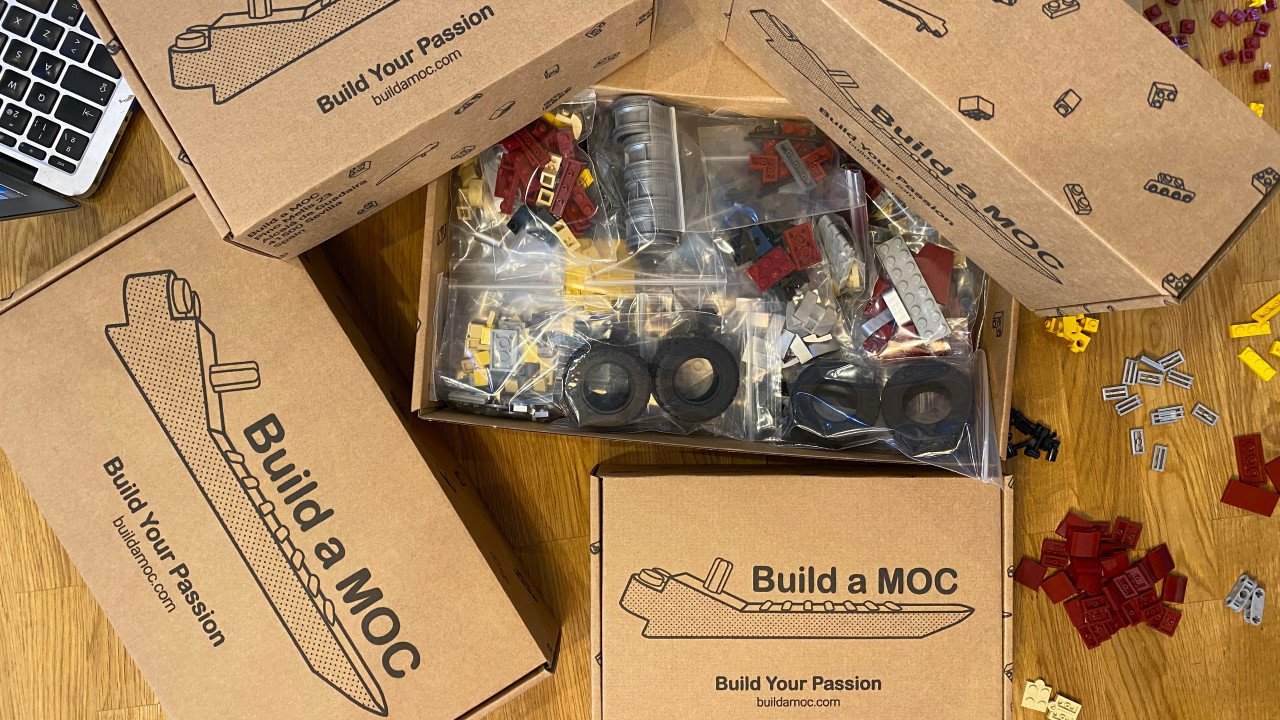 Let's begin with a quick presentation of the two people behind Buildamoc, and why they have created such service. I will quote themselves :
BuildaMOC was conceived by two AFOLs from the South of Spain with a mission to solve two problems of the LEGO world.
The first, a MOC buyer's problem. Many of our customers came to us frustrated by the complexity of buying LEGO bricks for their projects. Dealing with multiple websites for buying bricks and instructions, as well as multiple shops where they need to navigate complicated terms, restrictions and shipping and handling fees, and possible incidences, can be very frustrating and time consuming. For someone who is inexperienced, doesn't have enough time, or doesn't want to deal with it, buying custom LEGO MOCs can be difficult. We aim to solve this problem by becoming a one-stop shop for MOCs and simplifying the process. Purchasing the MOC you love is just one click away. We will take care of all of the parts, instructions, possible custom stickers, special chromed wheels and much more for them! We do the hard work so that you are able to spend time doing what you love: building a great LEGO MOC.
The second, a MOC designer's problem. MOC designers are able to easily sell instructions, but they cannot provide for customers who are not well initiated into LEGO. We help them reach a larger audience by making building a MOC accessible to anyone! We also help designers mitigate the problem of potential buyers having to purchase copycat kits, sold with the original instructions without providing any compensation to the designer. MOC fans will be able to support their favourite designer, as 10% of the total sale price of every MOC goes to their respective designer! The instructions that we provide are watermarked and buyer specific. It is hard to prevent unwanted instruction-sharing, but it's the least we can do. Lastly, we optimize and give tips to less experienced designers on how to make their MOCs more accessible to anyone by using less rare parts and understanding the market better.
Our journey started back in 2012, when we set up a small brick shop, selling some bricks to be able to finance our hobby, LEGO stop motion videos. It has since grown throughout the years to where we are now, with over 650,000 parts in over 10,000 unique lots in stock. From a few small shoeboxes to hundreds of storage boxes in multiple shelving units. We have learned a lot in the process about buying, selling and everything else LEGO, allowing hundreds of LEGO fans each month to get closer to finishing their great projects. Thanks to our experience and through economies of scale, we are able to provide great service to our customers and 100% original LEGO bricks at affordable prices. This is reflected in our mantra: "our most important asset is our customers".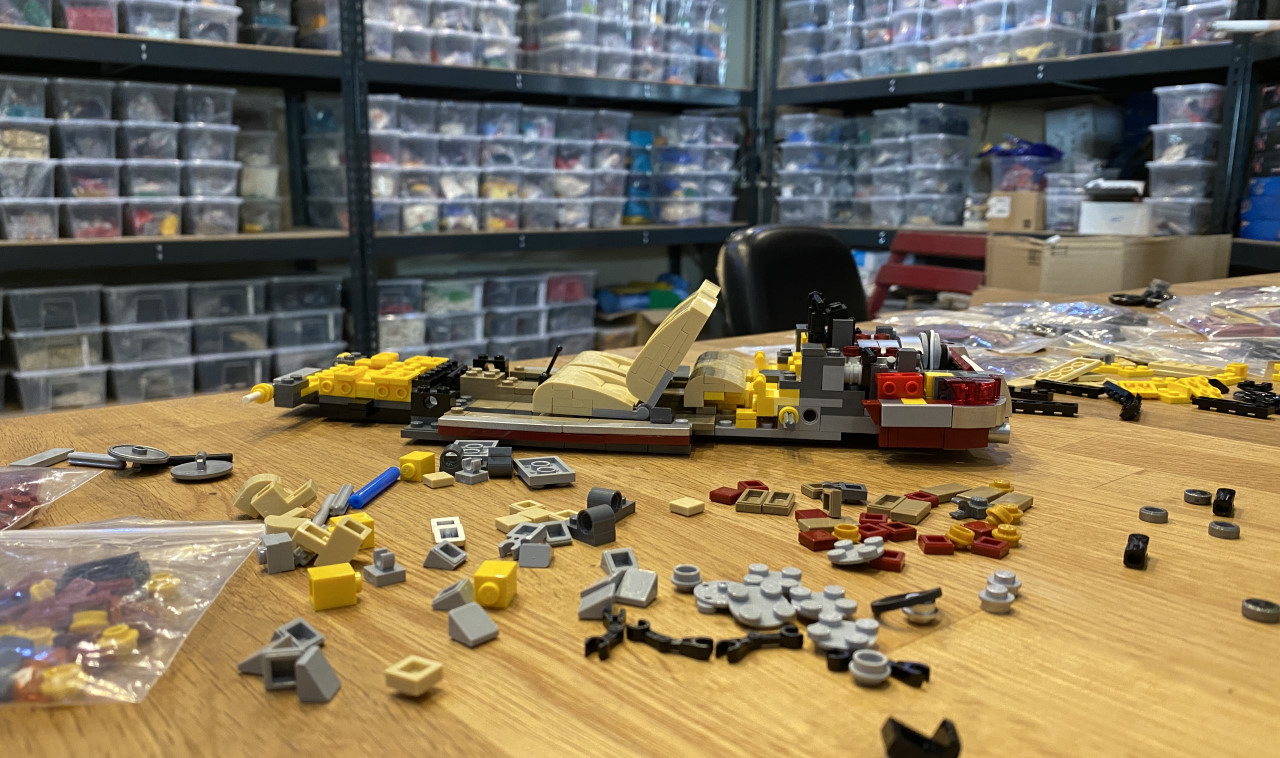 Building test of a Lego Porsche before Buildamoc launch.
As you can write, the main goal is to enable people to get in only one package all they need to rebuild a creation. Including genuine lego parts, building instructions in PDF, but also sticker or non-official part like Buwizz or chromed parts. It is a great advantage for me, that they can provide this type of parts, in order to rebuild the most epic projects like my Honda S2000 and propose a legal alternative than buying counterfeit product. Buildamoc has also take into consideration the needs from the creators when creating the back-end software behind the website to enable easy creating, editing item, but also tracking sales and customers.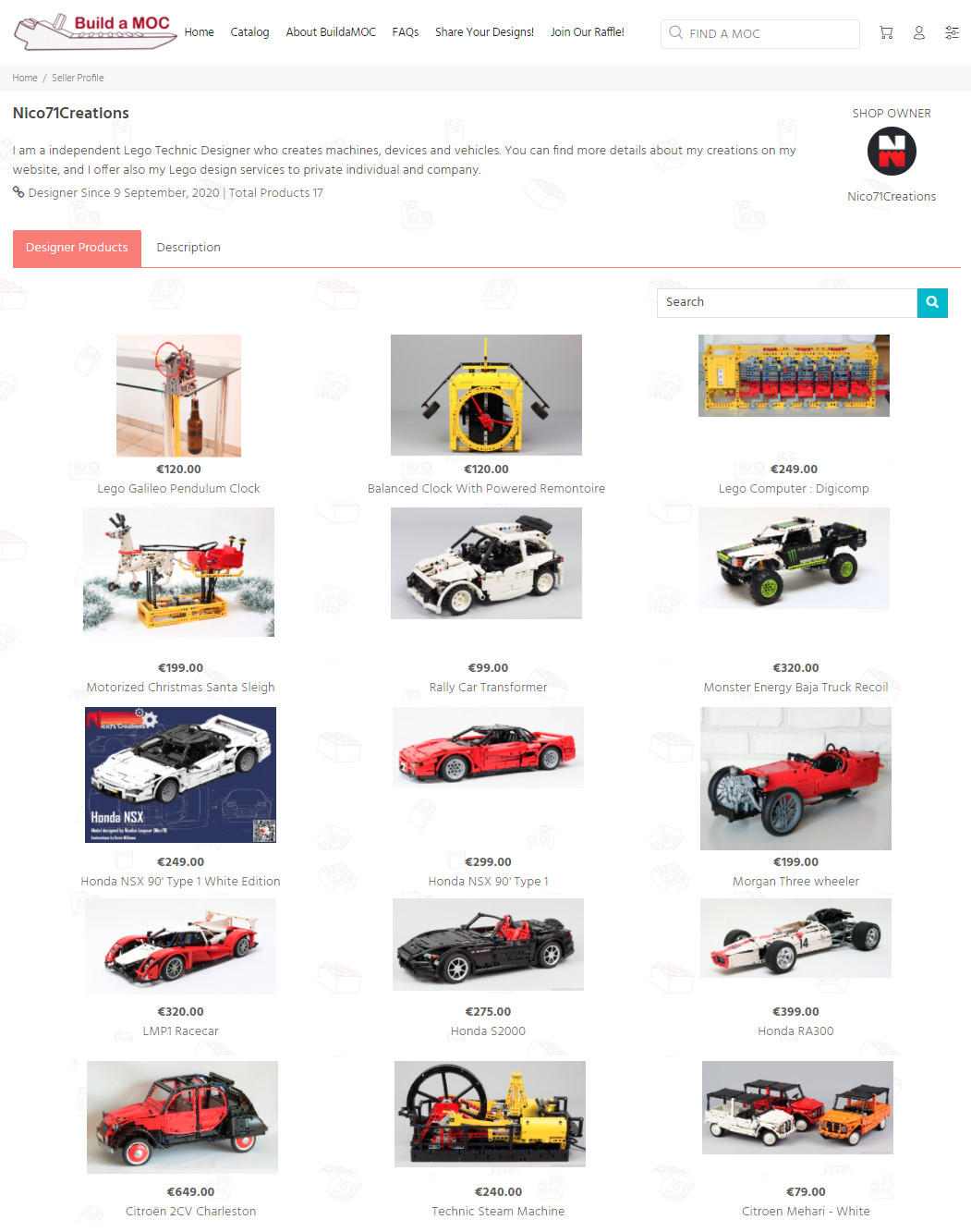 My collection on Buildamoc the 26th of Oct. 2020.
As a builder, I am of course interested in such service, as buying creation is the second most asked thing after building instructions. But I also wanted to ensure myself that the service and people behind are serious, that is why I have looked some sale I had with new customers and ask them how it went. The answer was : perfect. The package arrives in a reasonable time (the time to pick the parts, verify and send to the customer), the packaging was really good and sturdy, the delivering of the instructions, easy and in a secured way. It encourages me to propose more creation on this service including never proposed creation like the Honda RA300 or the Steam Machine.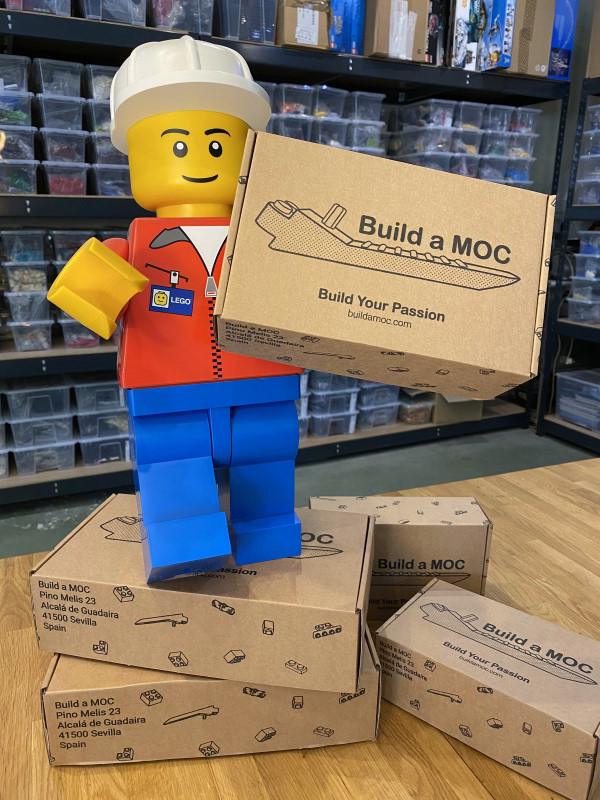 Buildamoc's mascot holding the packaging box ?
Of course Buildamoc is not the first website to propose custom creations for sale, but compare to Mochub, it has the advantage to source the rare parts and even the sticker, Buwizz and chromed/painted parts which enhance the creativity of builder. Mochub has now a strong competitor. Buildamoc is still a young service in selling custom creation but they have the experience from being a Bricklink store since 2012 and have proven with the first orders that they can handle such work. I wish them all the success they deserve and encourage people to have a look to my creations for sale at Buildamoc.
You can follow Buildamoc on Facebook or Instagram, and read what other people say about them (brickset review).