A simple but reliable mechanical slot machine.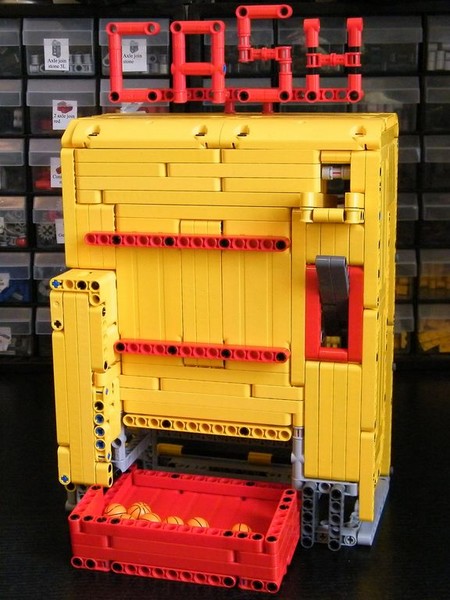 This slot machine was designed to be the most reliable and most simple as possible. It is composed of a mechanism which stores the lost ball thanks to a ratchet, a mechanism which sets the probabilities and a mechanism which loads the balls. The ball is loaded in the entrance of the machine, then the action of the main lever pushes it in the rear and the ball rolls over the slides. The probabilities mechanism is composed of slides and triangle parts which divide the way into two possibilities. There are two triangle parts therefore one chance over four to win each time.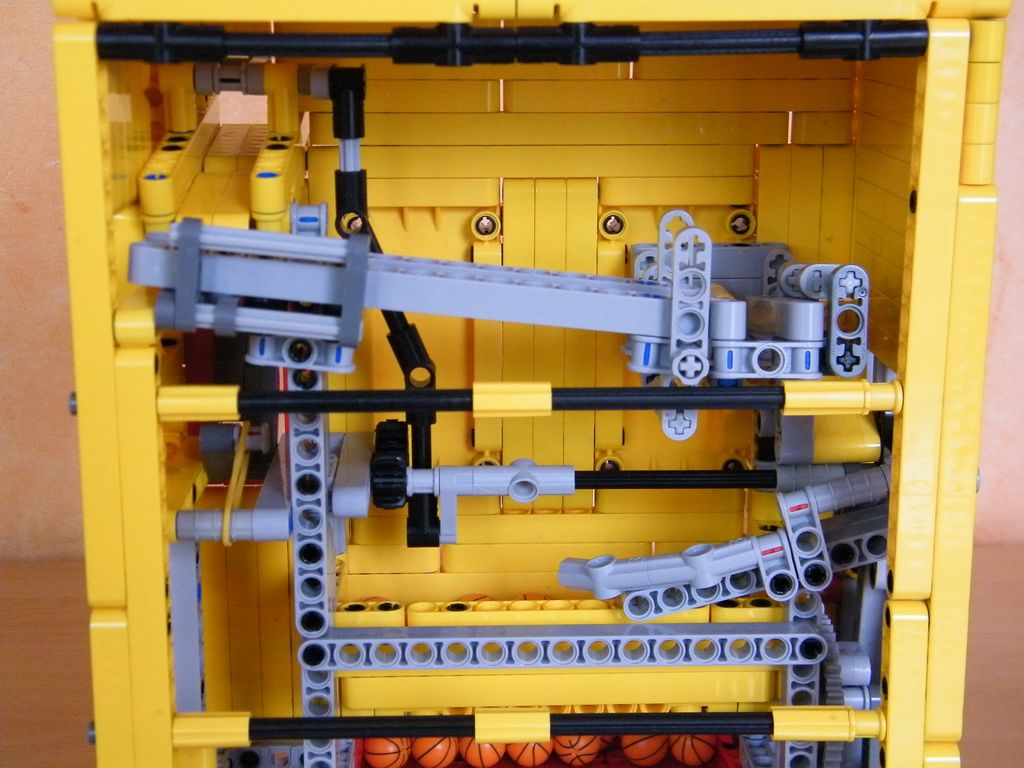 When the ball rolls on the right slide and fall on the red part, the trap door is opened. Then after using the lever, the trap door is re-locked thanks to the ratchet mechanism. You can see the ratchet mechanism on the right of the machine. The ratchet mechanism and the load mechanism is linked to the main lever which is put back with a rubber. Simple, reliable and very fun !
Photo sequence of dismantling here.
Mini Slot Machine

I have made a mini version of this big slot machine, years after (2022), with a proper building instructions in PDF. This mini slot machine has been build with the same internal mechanism in a condensed way and a top ball input. The functioning is the same, with the red lever which lift the hatch and lock it, and the release lever trigger by falling balls.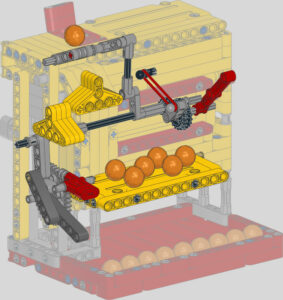 The instructions are 51 pages, step by step high resolution computer (300DPI) generated instructions with partlist, flexible parts, highlighted parts in the same way as official Lego one.
Regarding the bill of material, they are includes in the instructions and you can watch in the instructions preview below, but you can also checked the exact bill of material on Rebrickable and export in whatever format you want :

Want to know if you can build the Mini Slot machine ? The model has been indexed to rebrickable, check it !
You can buy the instructions with the following button for 5€ excluding tax. You can also buy other building instructions and get an automated discount, you will get 15% off for 2 PDF, and 20% off for 3 PDF on the total). The automated discount is available for all the instructions for sale on nico71.fr.
Mini Slot Machine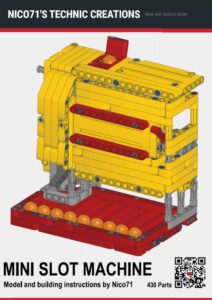 [purchase_link id="39134″ style="button" color="red" text="Add to cart – PDF Instructions Mini slot Machine (51 pages / 54mo)"]
–
After your payment, you will be redirected to a page for downloading your instructions, and will receive also the link to download by email. Please check the spam box and be patient to receive it. If you have trouble to download your copy of the PDF after payment or open the document, do not make a paypal dispute, please contact me using the contact form. The link to download the instructions expires within 48h. Contact me if you have lost your instructions. Note that you can print it, but not copy or distribute. Thank you for supporting my work 🙂
Designed in 2011