The wheel excavator. Features drive, steering, rotating superstructure, digging arm (with 4 movements), front blade and rear stabilisers. Designed to propose an alternative to expansive FSB02, including building instructions.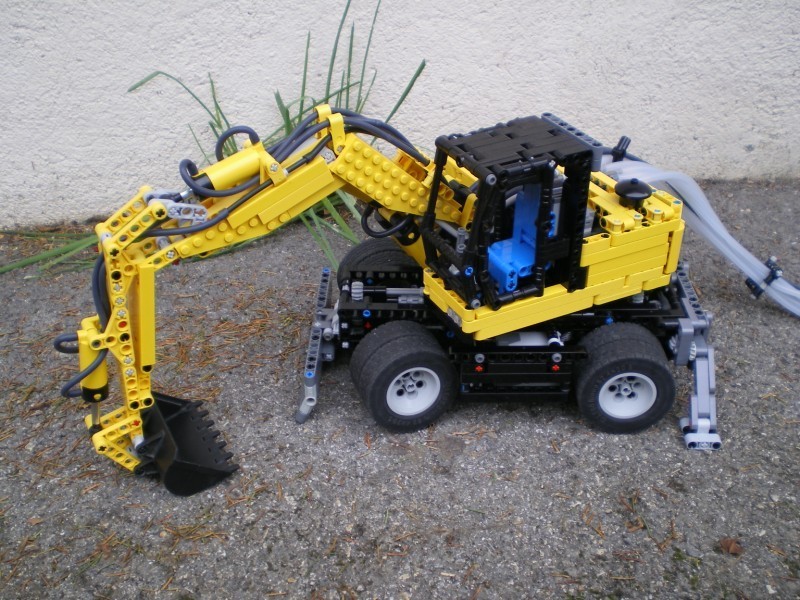 The most complicated excavator I made. It is equipped with drive on rear axle with XL motor (8/24 12/24 reduction), steering with a M (worm/8, 8/rack reduction) and front blade and stabilisers with a M. The blade and the stabilisers are operated in the same time. Rotation of superstructure is driven by a M in the superstructure with worm/24 reduction. The digging arm is composed of 5 pneumatic cylinders, 2 to rise the first arm, 1 to operate second boom, 1 to operate bucket-boom and 1 other to operate the bucket. The pressure is given by an external controller with 2 pneumatic compressors and 2 axis joystick.
The excavator is made with parts of 8275 (yellow parts and electric motors), 8292 (yellow parts), 6cm wheels and pneumatic parts (in the 8436 of 8421).
I have created the building instructions. You can watch them by browsing my webiste or
Downloading the Zip Archive of the wheel excavator, 10mo, ZIP.
Designed in 2008