Kumihimo Braiding Machine
10,00 € -Excl. Tax
A LEGO Technic automated mechanical braiding machine, based on traditional Japanese 7 reels Kumihimo braiding to create a final braid.
Video Presentation
Functioning
The "brain" of the machine is composed of two tracks with pins on it and output gearboxes powered by a L Motor. Each track operates a gearbox, and each pin on each track enables to control the way of rotation of the functions.
The first gearbox operates the hook, by moving a rack which is mounted on a small turntable to enable the rotation of the main ring. The hook assembly is built with two diagonal ramps to allow a combination of horizontal and vertical displacements of the hook when the whole assembly is moved. The second gearbox is connected to a rotating lever which makes oscillate a fork to make rotate the main ring. The whole assembly of the fork is connected to this ring, enables the positioning around the circle to catch and release the different reels.
I have synchronized the speed of the actuator with the brain's tracks. In order that during the displacement of 2 links of the tracks, the lever of the oscillating fork make 2 turns. Last device is the black ring which encircles the reels, as shown in the video, this device has been designed to push down the reels when they unwind naturally because of the main winder. It enables to have a reliable functioning until the reel are empty.
You can read the full review of this model on my blog.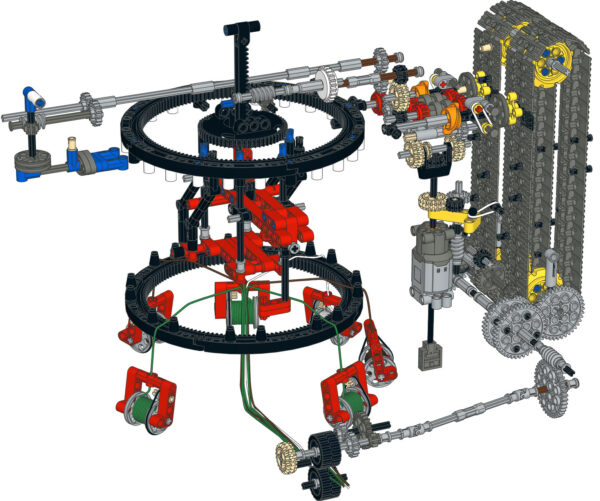 How to build ?
You can purchase the PDF instructions on this shop and build it with your LEGO parts. The instruction contains the partlist at the end, but you can check individually on

Rebrickable, or in the instructions previews below.
About this product

Instructions preview
How to set up
Regarding the black rubber band (x7), you can use every Ø15mm pony tail rubber band as long as they are less elastic than the 85543 rubber band. The rubber band has to prevent the free rotation of the reel, but do not have to lock it when you pull it slightly.
Regarding the reel's thread (at least 7x 1m), I recommend DMC thread for the quality, but you can test with many other brands or raw materials. Avoid the too big or fluffy materials like the wool.
Please follow this video to set up the braiding machine when you have built it :
This machine is a complicated build so I recommend using new parts and pay attention to every play on axle, gearing, bushing and bracing. You can use silicone oil if some mechanisms have trouble to be triggered.