An English exotic car, features steering, suspensions, big block Harley Davidson engine with pushrods and rockers, gearbox and boot which opens.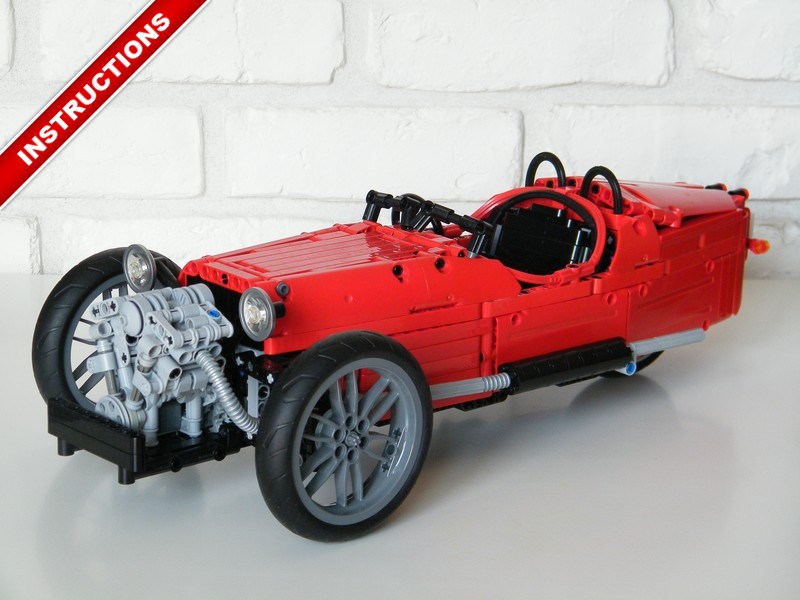 I have been planning for a while to build a 3-wheel car. This exotic car is made by the British manufacturer Morgan. The big block Engine is a Harley Davidson's Engine with pushrod system and rockers. Usually, the engine has two push-rods and two rockers by cylinder (inlet and exhaust valve). But on the lego version, I had only 3 stud-width available so I decided to put only one pushrod with rocker because of the room. I also decided to have visible moving part to be more expressive (real version doesn't have visible pushrods or rockers). Then the drive-shaft goes to the gearbox ,which is an 4-speed gearbox based on #8880 modified version. The following ratios are : 1:1 1:2 1:3 1:6. Then, the drive-shaft goes to a bevel gear, and finally the main drive-chain.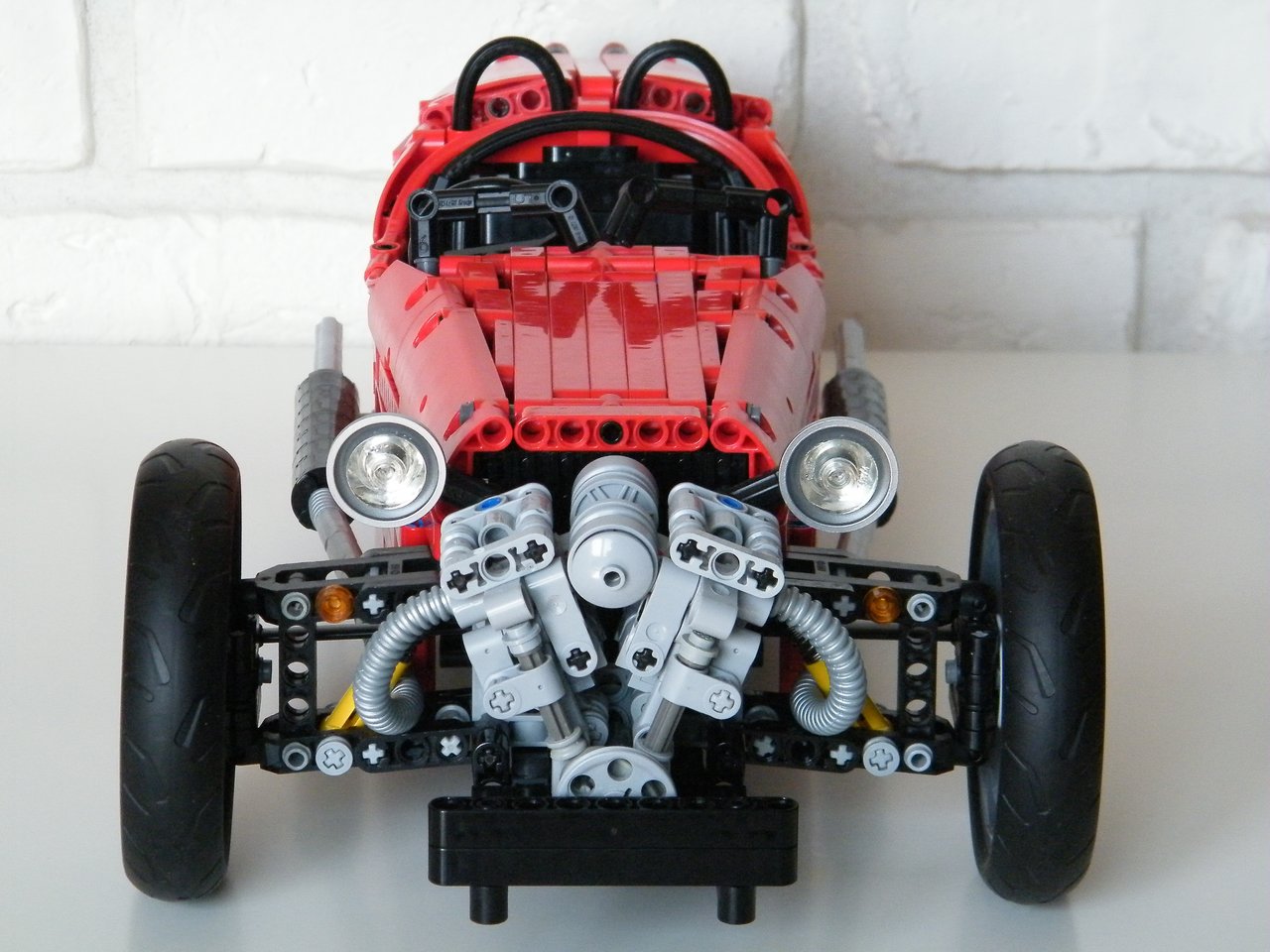 Regarding the suspensions, the front suspensions are composed of double wishbones with hard shock-absorbers. The rear suspensions is a swinging arm with two soft shock-absorbers. Note that the center of rotation of the rear arm is not the center of rotation of the pinion-chain. The body was the most difficult part of this moc, because of this shape and the room. The first thing I have done is to design the hood. Then, I designed the right and left panel while trying to be homogeneous in the shape (discontinuity in alignment). To finish, I have made the rear shape and that was the most difficult part. All designed lines had to cross each other to be elegant, including the opening of the boot.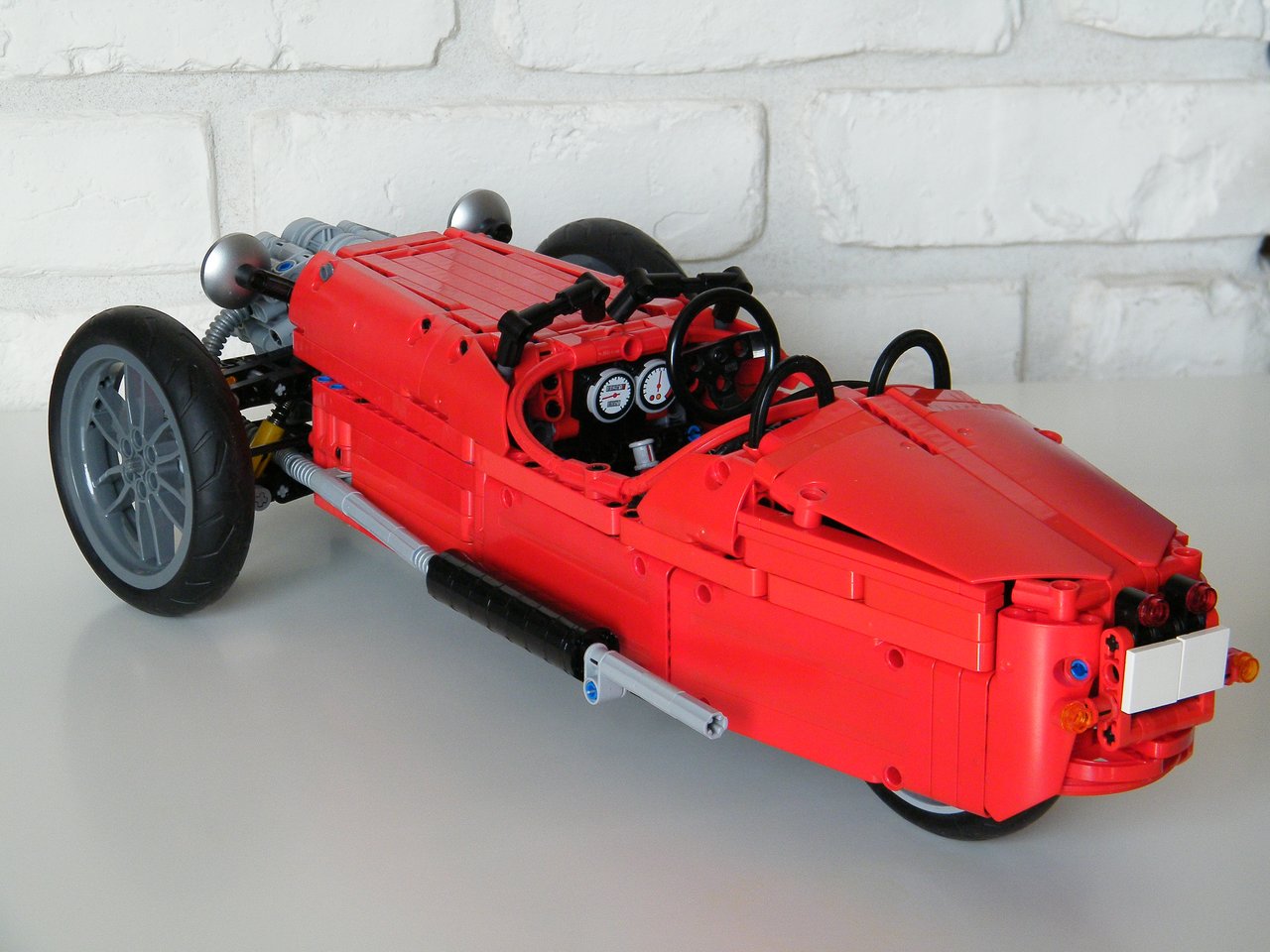 The interior shape has also received a lot of attention. I have managed the global shape by using flex parts all around the interior and by matching the panel with the flex (there was not much space to include gearbox, seats and interior). The shape is not perfectly accurate but the global shape and scale are respected. Also, the boot can be opened (in the correct direction) and the Hood can be removed as on real version.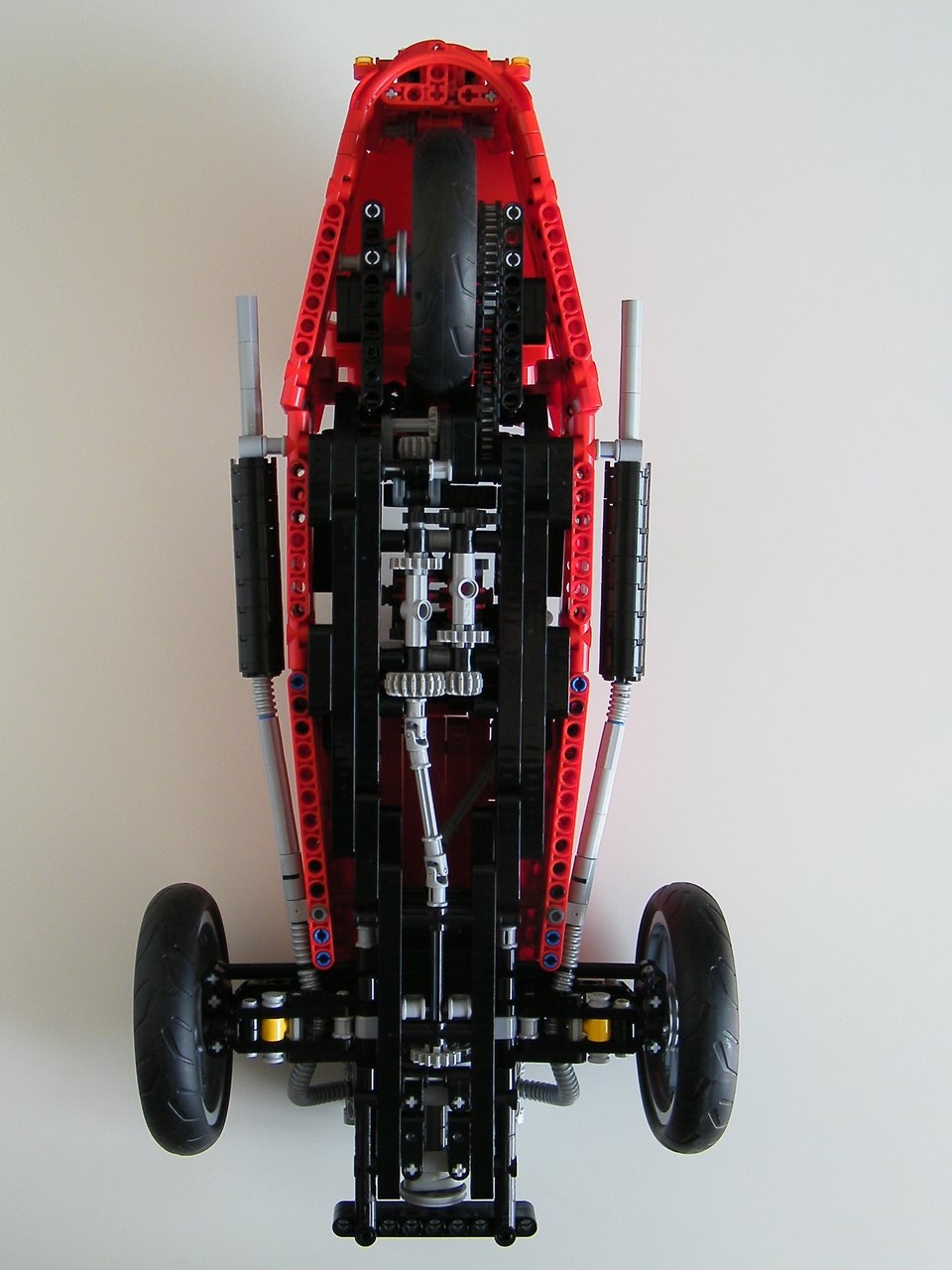 I have created the building instructions. You can watch them by browsing my webiste or
downloading the high definition PDF building instructions. Morgan Three Wheeler by Nico71 – 20 mo, PDF
Want to check before if you can build the Morgan Three Wheeler ? The Morgan Three Wheeler has been indexed to Rebrickable.com, the website which matchs your parts with mocs !
Designed in 2011
Related posts: