The Cuda ! I have developed over 6 months, purchasing parts and now it's here.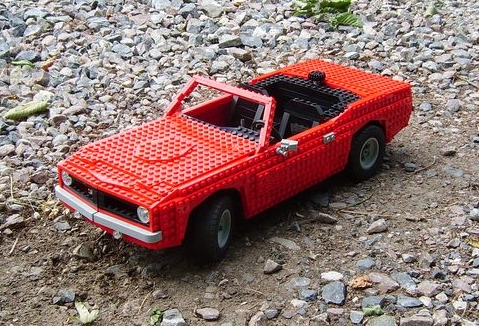 In October 2008, I decided to create a replica of the legendary Plymouth Hemi Cuda in Studfull. I decided to build it in 6cm wheel scale because this scale I think is well-appropriated between the features and size. The cuda has all functions of classic supercar : steering, HOG, fake engine, suspensions, gearbox, opened parts…
To begin, the fake engine V8 is connected to the rear wheel with a gearbox between wheels and engine. The gearbox is a modified gearbox of 8880 with 4 speeds (1:1, 1:2, 1:3, 1:6). The suspensions are independent on the front and rigid with shock absorbers on the rear. The steering wheel turns while the wheels turn. It's connected with 2 U-join placed under the fake engine. The HOG on the rear seats is connected to the steering thanks to a technic axle crossing the gearbox. The doors, bonnet and trunk can be opened. To talk about the design, it's built with plates and tiles, showing the studs. The design is pretty good and accurate I think, thanks to the red colour and the parts. To conclude, I spent lot of time on this car but I managed to create a beautiful car in studfull. To bad that I hadn't LED light at this period, the effect would be good.
I have created the building instructions.
Download the Zip Archive of the Building instructions of the frame and body of the Hemi Cuda, 20mo, ZIP.
Download the Zip Archive of the Building instructions of the front and rear axle and gearbox of the Hemi Cuda, 2mo, ZIP.
Designed in 2008-2009