I am a independent Lego Technic Designer who creates machines, devices and vehicles. I propose also a design service for companies, to create Lego Technic model of a product, for display, training or events.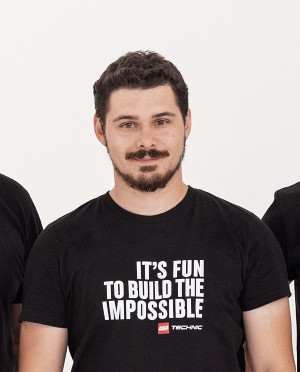 -Me, During the shoting of "build the impossible"-
Name : Nicolas
Birth : 1988
Nationality : French
Contact : see contact form
Studies : Master's degree in Mechanical Engineering, specialization in design process.
Work : Making Lego is actually my work, as an independent designer I design model for me published on my website, but also for companies.
Lego Activities : Moderator from 2007 to 2014 on the biggest french technic forum Techlug.com, writer on BrickTruckTrial.com, author of some lego software, contributor to HispaBrick Magazine. Recommended builder on the most active lego blog, Top 10 designer on rebrickable.
Residence : Annecy, France
First LEGO set ever : Set # 8837-1: Pneumatic Excavator
End of Dark Age : February, 2007, thanks to the #8420 – Street Bike.
Collection : See it on Rebrickable
Hobbies : Friends, Traveling on motorcycle, speakers (fabrication), photography, video gaming (Computer), Space (culture and astronomy), home improvement, old car and old motorcycle enthusiast, fan of Honda.
Personal goal : Living from my passion, start family, a house, travelling the world, and a classic car and/or motorcycle before I'm 40.
People Who Inspire Me (not ranked) : Piterx, vlmn8r, Erik Leppen, M-Longer, RoscoPC, Nathanael Kuipers, Sariel, Jovel, Crowkillers, Sheepo, Arvo, Firas Abu Jaber, Mahjqa, Konajra, JurgTechWorkshop, Ingmar, dirkklijn, Akiyuki, RM8 Garage, Desert Eagle, Madoca, JK brickworld, ISOGAWAYoshihito, Bruno Jenson, Charbel, KevinMoo, GearofDoctor, Artemy Zotov, T-Lego, LoxLego, All About Lego, AlexandreRossier, DyensCreation, Thomasz, Technicprojects, Superkoala, PVproductions, Legolaus, KD123, Jeroen Ottens, JamesJT, filsawgood, Errai, Dawid Szmandra, Marthart
References and media coverage.