My version of LPE3i based on scotch yoke system (original ideas from LPEpower) but with new switches ! It works smoothly at 200RPM with 4 hand-pumps and without friction (thanks to the scotch yoke).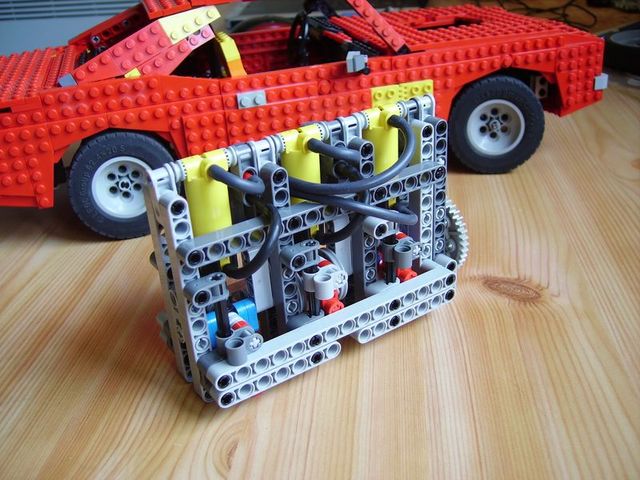 The major problem when designing a Lego Pneumatic Engine (LPE) is the dead points of the switches. In deed, the switches are the most important parts with the cylinders, they enable the engine to distribute correctly the energy (air-pressurized) in the cylinders. The problem is when a switch is on its dead point, no energy enter or no get away from. The result is consequently a blocking during the rotation of the engine.
There are different ways to reduce the dead point (evaluate at 30° of a complete revolution of the crankshaft). The first method is to use a inertia wheel also called flywheel in order to give enough inertia to the engine to break the dead point(s). The problem will be then the vibration at high speed (amplify by the mass and inertia). The second method is to modify the mechanics : for instance with the scotch yoke instead of the classic connecting rod which reduces the dead points.
The third factor to consider is the number of cylinder. For instance, a 1-cylinder engine can't start itself without flywheel. Two or more cylinders is necessary to have a automatic start but you must set up the crankshaft at 90°. If you set up the crankshaft at 180° (in classic real explosion engines), the engine will not start by itself, again because the Lego parts have not enough inertia. If you want more than 2 cylinders, be aware that a lot of cylinders will generates lot of friction. That is why, a configuration angled at 60° with 3 cylinders is a good compromise to start with.
Building Instructions
I have made two instruction, one for free as a photo sequence, and one for sale with rendering instructions. As usual, you can buy it for 5€ and then download the instruction immediately.
Rendered Instructions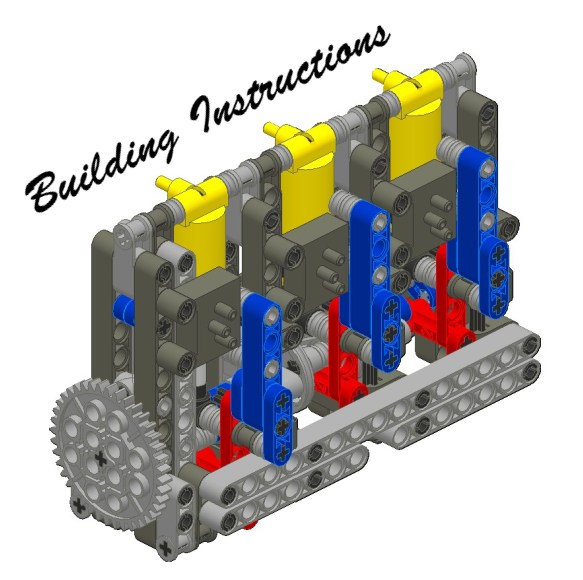 You can also checked it on rebrickable (or make any export you want)

Want to check before if you can build the LPE3i ? The LPE3i has been indexed to Rebrickable.com, the website which matchs your parts with mocs !
You can buy the instructions with the following button for 5€. You can also buy other building instructions and get an automated discount. You will get 15% off for 2 PDF, and 20% off for 3 PDF on the total), available for all the instructions for sale on nico71.fr.
See it on the Shop :
A LEGO Technic Pneumatic Engine, with 3 cylinders, 120° scotch yoke crankshaft, unmodified cylinders or switches, with 2023 new instructions.
After your payment, you will be redirected to a page for downloading your instructions, and will receive also the link to download by email. Please check the spam box and be patient to receive it. If you have trouble to download your copy of the PDF after payment or open the document, do not make a paypal dispute, please contact me using the contact form. The link to download the instructions expires within 24h. Contact me if you have lost your instructions. Note that you can print it, but not copy or distribute. Thank you for supporting my work 🙂
Here is some preview of the building instructions :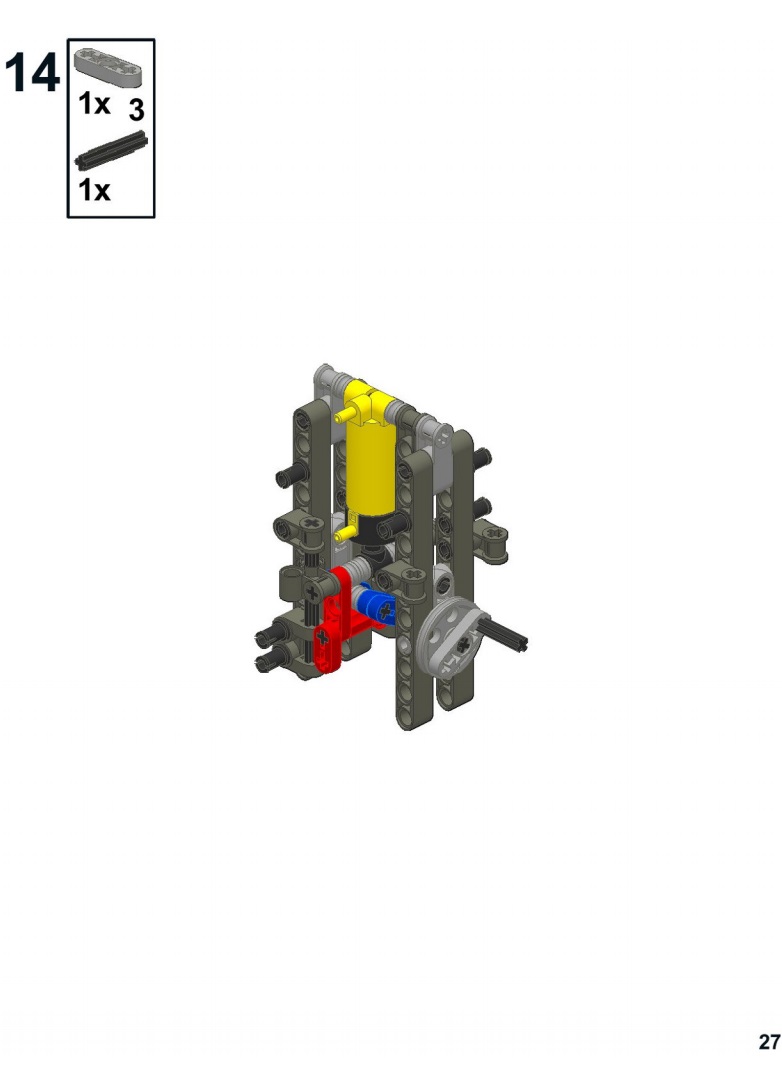 Photo sequence instructions
Designed in 2009